In 2016 the definition of virtual reality became somewhat diluted as it entered mainstream culture. Everything from non-interactive 360 videos viewable on a tablet to free-roaming full-body head-mounted display experiences inside warehouse spaces was marketed as VR. We saw 'magic window' VR experiences, a push for consumer HMDs including Gear VR, Oculus Rift, HTC Vive and PlayStation VR, and the introduction of low-cost alternatives such as Google Cardboard. It should come as little surprise that more than 210 companies exhibiting at CES 2017 use the keywords AR and/or VR in their descriptions; 72 are clustered in the Gaming and VR Marketplace section in South Hall Lower Level between spaces 21760 and 26025.
The 'magic window' type of VR experience, in which the virtual world is explored on a phone or tablet by swiping the screen or waiving it around, became freely available this year to anyone who sought out the experience.
Cellphone-based VR headsets were heavily marketed. Google Cardboard and competing low-end cardboard cases became marketing giveaways, while big box retailers advertised Samsung Gear VR and both lower- and higher-quality competing products.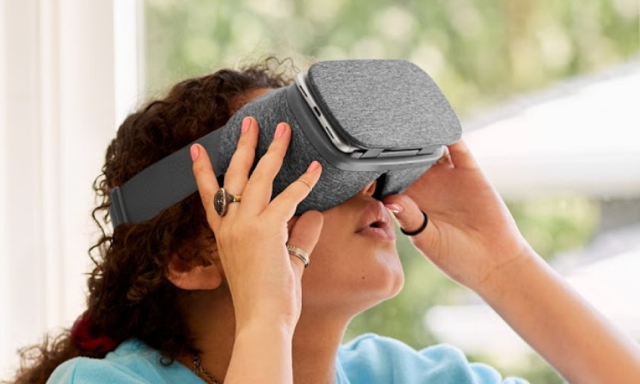 Best Buy currently stacks the Vive, Rift, PlayStation VR, Gear, Zeiss mobile VR HMD, and other HMDs and peripherals for the holiday buying season.
In its May 2016 report, Canalyst projected that China will account for 40 percent of VR headset shipments in 2016. YouTube, The New York Times, Within, and many others released apps that enabled magic window and cellphone-based VR headset viewing of their VR content.
Music video producers, travel and tourism organizations, universities, HR and training departments, and many other sectors created 360 content. In October, the W3C held a workshop on "The Web and Virtual Reality" to lay the groundwork for discussions of backward compatible VR browser Internet standards.
Most of the press attention went to the high-end integrated consumer HMD products and experiences; primarily Facebook-owned Oculus Rift, HTC Vive, and Sony PlayStation VR. If 2015 was the year that these devices were trialed and pitched to the creative community, then 2016 was the year that the hardware developers worked with the creative community to develop experiences so they could launch with full ecosystem experiences this fall and the holiday buying season.
SuperData estimates that 355,000 Rifts, 450,000 Vives, and 745,000 PlayStation VRs will be sold by the end of 2016. Even though PlayStation VR will only be on sale for about the last 3 months of 2016, they project it will dominate because of the large number of titles being released for it, the installed base of PlayStation consoles, and the low price of the HMD and complete system.
In contrast, full Rift and Vive configurations cost around twice as much. However, sales of the whole HMD category might be stifled in the near future as the technology that enables lean-in tracking, accurate tracking of your position as you rotate, and spatial awareness, is built into cellphones, and the phone-based VR headset experience approaches that of the integrated HMDs.
A lack of interoperability among these expensive integrated HMD systems will also cause some consumers to hesitate to buy the more expensive platforms. They have no assurance that some popular experience that comes out soon after they buy one vendor's HMD will play on their vendor's equipment.
Many of the key HMD hardware developers recognize this problem and formed the Global VR Association to address this. At launch, the GVRA did not include representation from the creative community.
The importance of audio, especially spatial audio and environmental audio, as a key element of storytelling and world engagement in VR, became more recognized in 2016. In September, the Audio Engineering Society held a full-day AES International Conference on Audio for Virtual and Augmented Reality.
Beyond sound and image, the major players relied on hand controllers and body tracking for data input and user tracking. Rift, Vive and PlayStation VR all introduced pairs of hand controllers with unique button configurations and user interfaces. The more unusual peripherals and user interfaces, such as eye tracking, platforms for running in place, and exotic haptic feedback seats and body suits remained niche products relative to the user interface tech sold with each brand's VR hardware.
Location-based entertainment VR experiences rolled out around the globe in 2016. The VOID ("Ghostbusters: Dimension" in NYC), Zero Latency (Melbourne, Japan), and others deployed ticketed attractions in 2016. Many theme and amusement parks worldwide integrated cellphone-based VR headsets into roller coasters and other attractions.
One-person to twelve-person "9D" experiences became popular in China shopping malls, storefronts, and other public venues. Many Chinese companies and investors are working to place them all around the world. For the most part, their technology is adequate but the story and engagement experience design falls short. A number of SoCal VR creative content startups are working with the Chinese to improve the situation.
On the VR content/experience side, Oculus Story Studio's "Henry" won an Emmy. "The Martian VR Experience" was released on Oculus Rift, Gear VR and HTC Vive. Sony PlayStation VR launched with over 30 VR titles, and has many more in the pipeline. "Gnomes and Goblins," created by Jon Favreau, WEVR Studio, and Reality One is advancing the art form and language of VR.
With the many developments over the course of 2016, VR is slated to make a major splash at CES next month. We'll be on site for daily reporting on the latest in this space.
Topics:
360 Video
,
9D
,
AES
,
Augmented Reality
,
Best Buy
,
Canalyst
,
CES 2017
,
CTA
,
Facebook
,
Gear VR
,
Ghostbusters: Dimension
,
Gnomes and Goblins
,
Google Cardboard
,
GVRA
,
HMD
,
HTC Vive
,
Jon Favreau
,
Magic Window
,
Oculus Rift
,
Oculus Story Studio
,
PlayStation VR
,
Reality One
,
Samsung
,
Smartphone
,
Spatial Audio
,
SuperData
,
The New York Times
,
The VOID
,
Virtual Reality
,
W3C
,
WEVR Studio
,
Within
,
YouTube
,
Zeiss