Satellite provider DISH Network announced that it has developed a new streaming app, dubbed the "Virtual Joey," that provides the same functionality as its Hopper DVR for LG Smart TVs. The app, expected to launch in the first quarter, offers control of the whole-home HD DVR, including live TV, recorded content and navigation via the program guide. The smart TV app essentially takes the place of a physical Joey multi-room extender, but still requires a Hopper DVR as the anchor.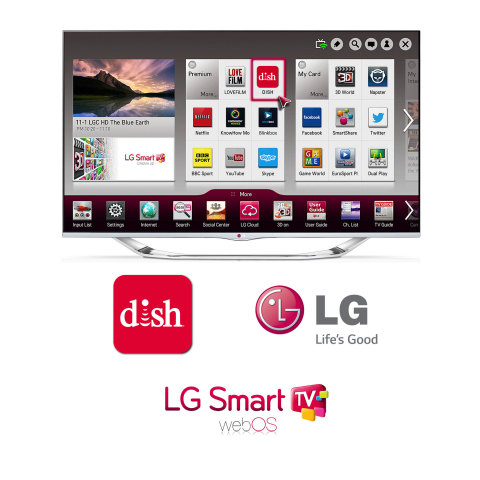 "Television placement is so often dictated by where the set-top box can be and where the wires are — this new application literally unleashes the TV," said Dish CEO Joseph Clayton.
"Back at CES 2012, DISH Network announced a whole-home DVR setup, including the Hopper DVR and a multi-room extender, called the Joey," explains Engadget. "Then, at last year's CES, DISH introduced a version of the Hopper with Sling built in, allowing you to send both live and recorded shows to a mobile device. This year, DISH is turning its attention back to those Joey boxes except, well, it doesn't necessarily have any hardware to show for it."
DISH made a number of announcements at CES, including "support for live, recorded, and on-demand video streaming to iOS, Android, and Kindle Fire tablets and mobile devices through a new group of DISH Anywhere apps," reports TechCrunch. The company is also launching upgraded Joey set-top boxes that feature new functionality and "virtual interfaces for PS3, PS4, and LG Smart TVs."
SuperJoey is the company's most powerful Joey set-top box to date. "Combined with DISH's Hopper whole-home DVR, the SuperJoey will allow households to record up to eight shows at once," according to TechCrunch. "By adding another couple of tuners, the Hopper and SuperJoey can record four cable TV shows in addition to the four broadcast networks that are automatically recorded."
The new Wireless Joey provides users with more options for viewing live and recorded content throughout the house. "But with the Wireless Joey, users can stream their live and recorded TV programs to any TV in the house, thanks to a thin client with an 802.11ac Wi-Fi connection," explains the article.
Starting today, DISH will provide Virtual Joey demos on PS3 systems in in Central Hall of the Convention Center.
Topics:
2014
,
Android
,
Anywhere
,
App
,
Broadcast
,
Cable
,
CEA
,
CES
,
Clayton
,
Console
,
Consumer
,
Dish
,
DVR
,
Electronics
,
Fire
,
Game
,
Hopper
,
iOS
,
Joey
,
Kindle
,
Las Vegas
,
LG
,
Live
,
Mobile
,
Network
,
Program
,
PS3
,
PS4
,
Record
,
Recorded
,
Satellite
,
Show
,
Sling
,
Smart
,
Sony
,
STB
,
Stream
,
Streaming
,
SuperJoey
,
Tablet
,
Television
,
TV
,
Video
,
Virtual
,
VOD
,
Wi-Fi
,
Wireless