Chinese phone manufacturer Huawei is making its move to break into the U.S. market and onto the global scene with the Ascend Mate2, a 4G LTE phone with a splashy 6.1-inch screen and other features that aim it squarely at the active social and entertainment user. A zippy 1.6GHz Qualcomm Snapdragon quad core processor and 2.4GHz/5GHz dual band Wi-Fi powers 150mbps LTE Cat4 transfer speeds, making it possible to download a feature film in one minute, according to Huawei.
Richard Yu, Huawei Consumer Business Group president and CEO, unveiled the device at a Monday press conference at CES.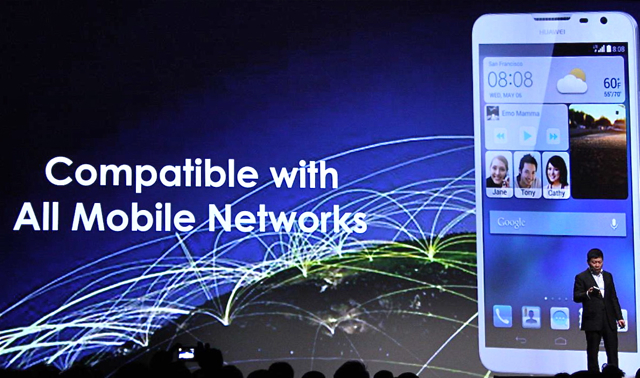 The Ascend Mate2 features a massive battery that powers more than two days of uninterrupted performance — so much juice that it can be used to power other devices. "You can use it to charge your iPhone. Here, let me show you," Yu said, evoking peals of laughter as he grabbed one from the audience and demonstrated.
A 5-megapixel front camera makes this phone the Leonardo da Vinci of selfies. It even boasts a 10-level auto face enhancement feature that will adjust lighting and smooth skin tones for more flattering portraits. Panoramic selfies, as well as offering picture-in-picture so you can get just the right angle makes this one self-absorbed phone.
The rear camera is a 13-megapixel Sony BSI f2.0, with up to 28mm in width and an impressive macro feature, judging by the nature shots Yu flashed onscreen. A phone manager that makes you master of your mobile domain with features like "do not disturb" and a harassment filter will also appeal to extreme phone enthusiasts.
Yu was preceded to the stage by Huawei Consumer Business Group Executive VP Colin Giles, who spent most of his talk-time emphasizing Huawei's dominance in the global cell phone market. The brand name is little-known outside China, mainly because the firm rose to prominence building routers, modems and phones marketed by others.
The company — which was founded in 1987 and is now the largest supplier of networking equipment in the world — has only been shipping product under its own brand name for three years. As of 2013, 95 percent of its product brandished the Huawei name, "a major change for us," said Giles, who cited an IBC number that measured the firm as the third-largest cell phone manufacturer in the world.
Huawei's 2013 unit numbers moved up from 10 million, 11.1 million, 13.4 million and 17.5 million through the quarters, and the company projects sales of 80 million units in 2014, fueled in part by U.S. demand.
Pricing and availability were not disclosed, though the Ascend Mate2 will be offered unlocked, so in theory it will run on any carrier's plan, requiring only a SIM card.
Topics:
2014
,
4G
,
Ascend
,
Battery
,
BSI
,
Camera
,
Cat4
,
CEA
,
CES
,
Charge
,
China
,
Chinese
,
Conference
,
Consumer
,
Electronics
,
Event
,
Giles
,
Handheld
,
Huawei
,
IBC
,
Images
,
iPhone
,
Las Vegas
,
LTE
,
Mate
,
Mate2
,
Mobile
,
Modem
,
Phone
,
Portrait
,
Press
,
Qualcomm
,
Router
,
Selfie
,
Show
,
Smartphone
,
Snapdragon
,
Sony
,
Yu