Roku is transitioning from a standalone device to one built into the hardware of a television. The company announced at this week's CES that it is partnering with six manufacturers to produce Roku TVs, which will have the same streaming options currently on the devices built right in. Chinese manufacturers Hisense and TCL are the first partners to be revealed, and Roku TVs with screens between 32- and 55-inches are expected to hit the market sometime in the fall.
The software on Roku TVs will mostly be the same as what it is now. According to Engadget, there will also be inputs for Blu-ray players, gaming consoles and cable boxes, "making switching between devices far simpler."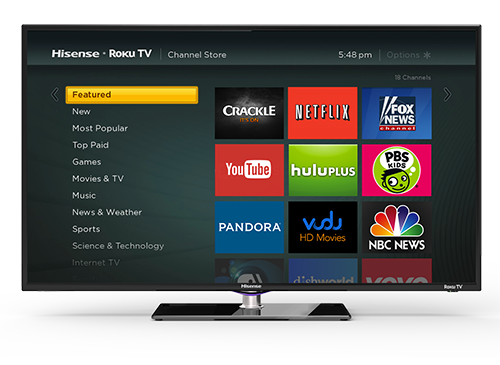 "Roku's shift from a provider of streaming players to that of branded TVs isn't as far-reaching as it sounds," suggests Engadget. Roku wants to primarily license out to smaller manufacturers that struggle to compete with the big brands like Samsung.
"In other words, Roku wants to supply the brains of the set and leave the design particulars mostly up to its partners," Engadget notes.
"A Roku TV is exactly what it sounds like: a standard HDTV that essentially has a Roku box built-in," adds CNET. "The idea isn't all that different than the Smart TV features included by most TV manufacturers, except that it's Roku's excellent software, which means Roku TVs will have access to over 1,000 channels, cross-platform search for movies and TV shows, and a clean, simple user interface. Roku's best-in-class streaming software is one of the main reasons the company's boxes have earned CNET's Editors' Choice Award over tough competitors like the Apple TV and Google Chromecast."
Roku will reveal the four other manufacturing partners later this year, along with how much consumers can expect to pay for a Roku TV. Design-wise, the sets will feature Roku's logo but are largely up to the manufacturers in almost every other way.
Additional details are available on the Roku blog.
Topics:
2014
,
Apple TV
,
Blu-ray
,
Cable
,
CEA
,
CES
,
Channel
,
China
,
Chromecast
,
Console
,
Consumer
,
Device
,
Electronics
,
Gaming
,
Google
,
Hardware
,
HDTV
,
Hisense
,
Input
,
Las Vegas
,
LG
,
Manufacturer
,
Movie
,
Roku
,
Roku TV
,
Samsung
,
Screen
,
Show
,
Software
,
Standalone
,
Stream
,
Streaming
,
TCL
,
Television
,
TV
,
UI
,
Video
,
VOD