As expected, 3D printer announcements are coming out of the desert. 3D Systems unveiled the kid-friendly, sub-$1,000 Cube 3, the latest addition to its line of personal desktop 3D printers, as well as the $5,000 CubePro, for those with more extensive printing needs. Not to be outdone, MakerBot announced its new $1,375 Replicator Mini and $6,499 Replicator Z18 at a press conference yesterday. The Z18 can print up to 12x12x18 inches, or 2,592 cubic inches of printing space.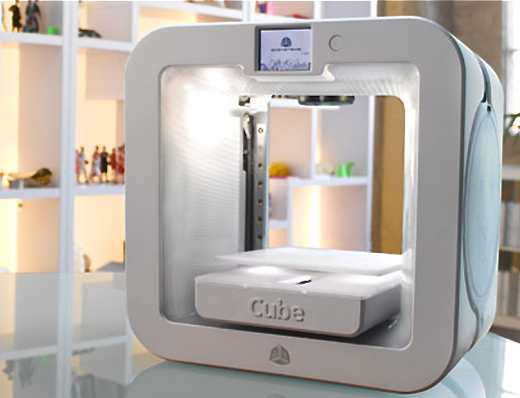 "The Cube 3 abandons the open design of the Cube 2 for a bigger, boxier shape that's still easy to reach into and capable of printing objects up to six inches across," reports GigaOM. "It also has a color touchscreen to begin and monitor print sessions. You can print directly to the Cube from a smartphone app."
The Cube 3, which is the first plug & play printer from 3DS to retail for less than $1,000, can simultaneously print in two colors or two materials. A new filament cartridge fits into the side of the printer.
"This supposedly makes replacing filament easier and locks out moisture to lengthen the shelf life of the plastic," notes the article, "but also ensures people will have to buy filament directly from 3D Systems."
The new CubePro, which will retail for less than $5,000, can print objects about 10-inches across, in up to three colors or two materials at once.
"The Pro fits into an emerging category," explains GigaOM. "Not quite professional and not quite hobbyist, it's small enough to fit on most desktops while still pumping out high-quality prints. The architecture firm or hardware startup that needs regular prototypes would like this one."
3DS will unveil additional products during a CES event scheduled for this afternoon. For more information on these two printers, check out the Cube 3 press release and CubePro press release.
"Feature-wise, you've got the same color display and USB/Ethernet/Wi-Fi connectivity, built-in camera and Smart Extruder as the new third-generation Replicator," reports Engadget on the Replicator Z18. "Unlike the other Replicator, however, this one is enclosed, with a heater built in to assure more stable builds. Heating up that large of a space means it takes a little bit longer to start laying down filament, but the quality should be worth the wait."
MakerBot CEO Bre Pettis described the Mini: "It's basically one touch, set up for speed. It's the point and shoot of 3D printers."
"The device has a connected camera to monitor progress and share images to social networks, and connects through Wi-Fi to a suite of cloud-enabled apps," writes The Verge. "It has a magnetic extruder that's easy to detach."
Both the Replicator Mini compact printer and Replicator Z18 will be available this spring. According to MakerBot, the Replicator line will also integrate with a new mobile app.