TiVo Research & Analytics has released its first "TiVo State of TV Report," which provides insights into television viewing habits, advertising and commercial retention rates, and the top streamed and time-shifted programs. The team analyzed viewing data from multiple datasets, including TiVo and non-TiVo households, from July to September. The results point to a significant increase in time-shifted viewing and binge watching, while sports programming and primetime animation led the charge for live viewing.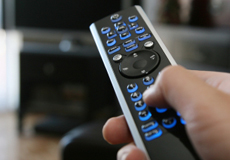 "TiVo Research & Analytics found that drama and science fiction genres deliver the highest percentage of time-shifted viewing on primetime cable and broadcast," reports Advanced Television.
"Seventy-nine percent of sporting-event viewing happens in real time and, surprisingly, 71 percent of primetime animation viewing occurs in real-time, whereas 71 percent of drama programming is recorded and viewed at a later time. ESPN and ESPN2 both rank in the top five least time-shifted networks during this summer and autumn."
Consumers who record television tend to have shorter attention spans, according to the study. Advertisers saw a higher retention rate for 15-second spots, as compared to 30-second commercials. For Q3 2014, advertisers increased the number of 15-second spots for primetime by 6 percent over last year (now at 43.3 percent).
Broadcast's time-shifted commercial retention rate averaged 45 percent (measured second-by-second), while cable averaged 52 percent.
Among the cable networks, TNT was the #1 most time-shifted network, followed by Lifetime, Bravo, Syfy and USA.
According to the report, "The Big Bang Theory" was the show with the most Season Pass recordings and "Big Brother" was the most frequently streamed primetime show. The top non-primetime streamed programs were "NFL Football," "MLB Baseball" and "The Daily Show with Jon Stewart."
Topics:
Advertising
,
Animation
,
Big Brother
,
Binge Viewing
,
Binge Watching
,
Bravo
,
Broadcast
,
Cable
,
Drama
,
DVR
,
ESPN
,
Jon Stewart
,
Lifetime
,
Live TV
,
MLB
,
NFL
,
Primetime
,
Retention
,
Sci-Fi
,
Season Pass
,
Sports
,
Streaming
,
Syfy
,
Television
,
The Big Bang Theory
,
Time-Shifting
,
TiVo
,
TNT
,
USA
,
VOD