Video games as an advertising medium is still relatively niche, but a migration to streaming has paved the way for what observers predict will be explosive growth. Ad Age recently identified gaming as "the next huge advertising channel." Fast Company posits U.S. in-game advertising, or IGA, is currently between $6-$8 billion, which is less than 6 percent of U.S. digital advertising. Analytics firm Research Dive predicts in-game advertising will grow to $14 billion worldwide by 2028. Fast Company says here are nearly 3 billion global players — one in four people — and growing by 15 percent a year.
In the U.S., mobile gaming alone is expected to generate $6.26 billion in 2022, according to Insider Intelligence. One reason gaming is so significant an advertising medium is engagement, which Fast Company says is "off the charts," explaining that "a young gamer in a strong gamer culture will have 10,000 hours playing online by the age of 21," time that is "characterized by intense concentration often punctured by the exhilaration that comes with an 'epic win.'"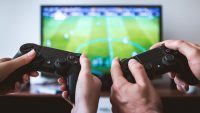 The market hit a turning point in 2016 with Niantic's "Pokémon Go," which Fast Company says "offered possibilities that were scarcely dreamed of in other advertising scenarios" by effectively breaking "the fourth wall of on-screen performance." As part of that experience, Niantic offered sponsored locations designed to generate foot-traffic tied to game tie-ins.
"In Japan, McDonald's was all-in, aiming to drive 'Pokémon Go' gamers' to its 3,000 outlets," Fast Company reports, noting that "in the U.S., Starbucks designated 12,000 of its stores official 'Pokéstops' or Gyms."
As the metaverse comes online, the unique engagement opportunities offered by gaming will only intensify, with gaming companies already leveraging augmented and virtual reality to create new types of marketing experiences.
"The platform on which a game is played can include the presence and personality of an unlimited number of users who carry with them their possessions, capabilities, and spending power," Fast Company explains.
"Over the next generation or two, ever larger numbers of people, hundreds of millions, will become immersed in virtual worlds and online games" resulting in "a social cataclysm larger than that caused by cars, radios, and TV, combined," according to media futurist Edward Castronova.
The gaming industry overall is expected "to maintain its recent rapid growth, and could be worth $321 billion by 2026," writes the World Economic Forum, reporting on the PwC Global Entertainment & Media Outlook 2022-2026 report. "China and the U.S. dominated the market in 2021, accounting for about half of gaming and eSports revenues." Future growth is expected to come largely from "less wealthy countries with growing populations."
The Research Dive report says global IGA growth will be fueled by "acquisitions and business expansion by key market players" as well as "growing interest in social media and mobile gaming."
Topics:
Advertising
,
Augmented Reality
,
China
,
Digital Advertising
,
Edward Castronova
,
eSports
,
Gaming
,
IGA
,
In-Game Advertising
,
Japan
,
Marketing
,
McDonald's
,
Metaverse
,
Mobile
,
Mobile Gaming
,
Niantic
,
Pokémon Go
,
PwC
,
Research Dive
,
Social Media
,
Starbucks
,
Streaming
,
United States
,
Virtual Reality