Meta and Snap both appear to have re-focused their social media strategies on video, leading to speculation they're chasing TikTok, famously the U.S.'s "most downloaded app of 2021," which at 94 million handily topped the 64 million of the second most popular, Meta's Instagram. Meta CEO Mark Zuckerberg told analysts last week that even though Instagram's Reels is the company's most rapidly growing format, "we also have a competitor that is compounding at a pretty quick rate, too." ByteDance's TikTok, Zuckerberg said, "continues to grow at quite a fast rate off of a very large base."
Meta launched Instagram's video-friendly Reels in August 2020 as a way to compete against TikTok, adding a version of it to Facebook in September. While Meta has yet to break out Reels usage, The Wall Street Journal writes that "outside research shows it is falling farther behind TikTok in the battle for younger users. In 2021, TikTok reached 63 percent of Americans between the ages of 12 and 17 weekly, up from 50 percent a year prior, according to a November survey by Forrester. Instagram, meanwhile, declined from 61 percent in 2020 to 57 percent in 2021."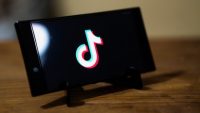 While Zuckerberg told analysts Reels is already the fastest-growing user engagement feature on Instagram, and is rapidly scaling on Facebook, "Reels has also begun cannibalizing usage of Instagram and Facebook's Feed and Stories features — the company's biggest moneymakers," WSJ reports.
While The Verge says Snapchat came up with the Stories format of "sharing pictures and videos that disappear," Snap now "is indicating, along with Facebook, that the future of social media looks more like TikTok." Snapchat users, according to The Verge, "are increasingly flocking to watch videos on Spotlight, Snapchat's TikTok rival for viewing viral videos posted by random creators, and its Discover section for premium shows."
Bloomberg reports that Zuckerberg told employees last week via a company-wide virtual meeting that Meta faced an "unprecedented level of competition" in the social media space "with the rise of TikTok, the rival viral-video platform," and that "the company is now prioritizing" Reels.
Meta has been able to overtake rivals before, Insider Intelligence principal analyst Debra Aho Williamson pointed out in WSJ, which explores how creators monetize the various features and platforms. "Rolling over Snap was kind of like pushing your little sister down when she's 1 and you're 4," Williamson told WSJ. "TikTok is like your brother after he's gone through his high-school growth spurt — you can't push him down that easily."
Facebook lost a record $251 billion of value on Thursday and remained down as of Monday. Zuckerberg's personal loss of $30 billion still leaves him with $84 billion, according to CNBC. Since most tech companies compensate employees largely through stock, the situation is sensitive as regards Meta's rank-and-file employees, according to Bloomberg, which says "Meta is already talking about ways to retain staff amid the stock rout."
Topics:
ByteDance
,
China
,
Creator
,
Debra Aho Williamson
,
Discover
,
eMarketer
,
Facebook
,
Image
,
Insider Intelligence
,
Instagram
,
Instagram Reels
,
Mark Zuckerberg
,
Meta
,
Meta Platforms
,
News Feed
,
Photo
,
Reels
,
Snap Inc.
,
Snapchat
,
Social Media
,
Social Video
,
Spotlight
,
Stories
,
TikTok
,
Video
,
Viral Video