Dimenco's new stereoscopic 3D display has been called "breathtaking" and the future of screen viewing. The Netherlands-based company's Simulated Reality Pro gives the impression of images coming out of the screen without special eyewear. Dimenco defines Simulated Reality (SR) as immersive technology somewhere between augmented reality and virtual reality. Dimenco's display tech relies on visual parallax and perspective-shifting to provide its SR experience. The viewer's eyes are tracked by an in-unit sensor that serves discrete left- and right-eye views rapidly enough to read as a single image, allowing you to "look around" the picture elements.
Though the SR Reality Pro is in its early days, it does have a suggested retail price of $11,225 for the 32-inch model reviewed by PetaPixel, which predicts practical applications once the technology becomes more mass market. Even now, PetaPixel reports that the SR Reality Pro "would work especially well" with content created using stereoscopic lenses, such as the RF 5.2mm f/2.8 L Dual Fisheye lens Canon announced at CES 2022, where Dimenco won an Innovation Award in the AR/VR category for the SR Reality Pro.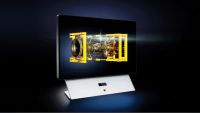 At present, the Dimenco website says its patented technology is a "fully developed lenticular 3D display technology ready to be implemented by original equipment manufacturers (OEMs), with concept shots of it working on a laptop displaying medical, scientific and engineering images. PetaPixel adds that "this technology will really sing" when used by  architects, automotive and city planners, VFX artists and real estate professionals.
PetaPixel says that to properly experience the SR Reality Pro essentially requires "a top-of-the-line VFX or gaming machine." To take advantage of the 3D "display and its SR tools, the computer behind it needs a minimum Intel i7, 10th gen CPU, and an Nvidia GeForce RTX 2080 Ti or GeForce RTX 30-series GPU."
Although the unit it was reviewing relied on Intel's RealSense D455 sensors for eye-tracking and a Leap Motion Controller for hand tracking, it stipulates that "given that Intel has abandoned development of the RealSense system, it's not clear what Dimenco is going to do going forward."
"The metaverse and extended realities represent the next big technology platform with virtual 3D worlds that are social, shared and persistent. As a result, we are witnessing a seismic shift towards the use of multiple elements of technology, including virtual reality and augmented reality, where users 'live' within a digital universe," Dimenco CEO Maarten Tobias said in a press release.
Citing a Bloomberg Intelligence figure, Tobias said, "the global metaverse revenue opportunity could approach nearly $800 billion by 2024, and presents an opportunity for leading online entertainment and social media companies to capitalize on new revenue streams from live entertainment, such as concerts and sports events, as well as social media advertising revenue," concluding, "our latest Simulated Reality innovation makes this transition even more achievable."