During CES, Canon introduced two new software-based collaborative tools it has in development: AMLOS, a video meeting platform based on gestures, and the VR platform Kokomo, a social VR platform for immersive video calls. Under the theme "Together Next," Canon enlisted actor Joseph Gordon-Levitt and his online collaborative media platform HitRecord to demonstrate using the new hybrid collaboration technology in a virtual, real-time writers' room. In addition to operation through gesture control and connectivity with Microsoft Teams and other collaboration apps, AMLOS will allow a single camera to capture multiple angles when it debuts later this year.
Canon first announced AMLOS (acronym for Activate My Line of Sight) at CES 2021. Its hand-gesture activation will let presenters share shots of meeting components (like a book, notes or white board) using automatic cropping. "The clever part is the automatic processing that AMLOS carries out to create these views and screenshots," writes TechRadar.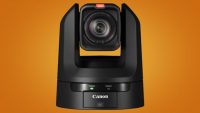 At its CES 2022 demo, Canon used the AMLOS software system to create a front-on view of a slanted whiteboard in real time by cropping and processing the live stream, while an open-palm hand-gesture to the Canon EOS R5 camera grabbed a shot.
Canon says the technology will work with any type of camera, but suggests choosing from Canon's PTZ (Pan, Tilt, Zoom) line for the best experience. PTZ models include the Canon CR-N300 ($2,699) and CR-N500 ($5,399). Because they're relatively pricey, TechCrunch says AMLOS "is still likely a niche innovation," suggesting a bid to expand marketshare because "smartphones have pushed camera sales back down to their film-era niche."
Laptop Mag characterized Canon's announcements as "solutions for our new reality since the COVID-19 pandemic interrupted life as we knew it."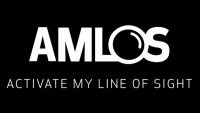 Canon's ambitious Kokomo software "combines the 3D experience of beautiful and life-like VR destinations with video calling." Visitors will be able to enter a real-time "ImmersiveCall" that utilizes Canon cameras and imaging technology "to create realistic representations of users, so virtual reality calls feel like you are interacting face-to-face rather than through a screen or an avatar."
TechCrunch describes Kokomo as letting users "meet friends and family in VR video calls that are based in locations like Malibu, New York or Hawaii" using "a compatible Canon camera, VR headset and a compatible smartphone" with models yet to be identified.
Canon says it will soon announce a launch date for Kokomo, and has "exciting plans to add new destinations, functionalities, and features," along with expanded compatibility with Canon cameras and lenses. These include the Canon RF 5.2mm f/2.8L Dual Fisheye Lens that shoots 180-degree VR video. It is this lens for which Kokomo seems to have been invented.
Announced in October, Canon showed-off the dual fisheye lens at CES 2022 in a presentation that followed "wheelie crews as they hit various locations throughout Brooklyn." For maximum experience of the captured content, Canon recommends pairing the RF 5.2 fisheye with a compatible VR headset, such as Meta's Oculus Quest 2, which will allow users to "immerse themselves in the content by simply moving their head to provide a vivid, incredibly wide view."
The Canon RF 5.2mm f/2.8L Dual Fisheye Lens is available for preorder for $1,999.
For more on CES 2022:
CES Hashtag — #CES2022
CES Twitter Handle — @CES
CES Facebook Page — facebook.com/CES
Topics:
AMLOS
,
Avatars
,
Canon
,
Canon CR-N300
,
Canon CR-N500
,
Canon Dual Fisheye Lens
,
Canon PTZ
,
CES 2022
,
COVID-19
,
Digital Cameras
,
Gesture Control
,
HitRecord
,
ImmersiveCall
,
Joseph Gordon-Levitt
,
Kokomo
,
Meta Platforms
,
Microsoft Teams
,
Oculus Quest 2
,
Social VR
,
Together Next
,
Video Calling
,
Virtual Locations
,
Virtual Reality