TCL, the No. 2 TV-maker in the world after Samsung, raised the curtain on a new flagship model at CES 2022. The X925 Pro is a super-thin, 85-inch, 8K Google TV powered by the company's own flavor of Mini-LED, featuring OD-Zero technology. Measuring just 10mm thick — half that of some competing models — the 8K display has local dimming, QLED color, a built-in webcam for video chats, 120Hz refresh rate and, to make gamers happy, variable refresh rate (VRR). The Google TV OS enables hands-free "Hey, Google" voice commands. The X925 Pro touts numerous high-end touches and has a $10,000 price to match.
The sound design and audio fittings have also been overhauled, with 25 drivers in an Onkyo audio system that includes a subwoofer, Dolby Atmos processing and improved immersion resulting from side-mounted speakers. An integrated soundbar can be placed horizontally or vertically and can be wall-mounted (along with the sub-woofer). The finish is aluminum.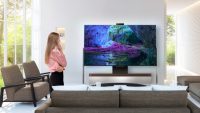 TCL says its OD-Zero Mini-LED "features the smallest LED chip, doubles the number of local dimming zones," maximizing the precision of backlighting, with better contrast and brightness.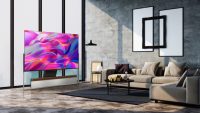 Also noteworthy is the super-sized 98-inch QLED TV, designated model 98R754. This latest entry in the company's XL line prompted lots of "XXL" puns and accolades for the relatively lightweight price of under $8,000. "TVs this large are rare but not unheard of — Samsung's excellent QN90A comes in a 98-inch size for $15,000, for example," writes CNET. "A good projector can get bigger and our favorite for the money costs $700."
The 98R754 has a 4K display and runs on Google TV (marking a decisive TCL move away from Roku, though the company says it will continue to offer Roku TV smart streaming systems as well as Google Stream in 2022).
Other TCL announcements from CES 2022 include:
A 144Hz refresh rate for gamers who want to max-out their high-end PC GPUs. CNET notes that "consoles like the Xbox Series X and Sony PlayStation 5 max out at 120Hz, so they won't take advantage of this feature." TCL has yet to specify which new TVs will support 144Hz.
In conjunction with display processing company Pixelworks, TCL introduces TrueCut Motion, "an end-to-end solution to the problem of excessive judder, smoothing and other motion issues that can occur with today's TVs, streaming devices and services," CNET reports. "The idea is to give directors and other creators tools to ensure motion seen by viewers follows their intent, and includes a certification program and new format." Described by CNET as an attempt to "squash the soap opera effect," the outlet explains competing platforms including Samsung and LG use a different approach, called Filmmaker Mode.
For more on CES 2022:
CES Hashtag — #CES2022
CES Twitter Handle — @CES
CES Facebook Page — facebook.com/CES
Topics:
4K
,
8K
,
CES 2022
,
CTA
,
Display
,
Dolby Atmos
,
Filmmaker Mode
,
Gaming
,
Google Stream
,
Google TV
,
LG
,
OD-Zero
,
Onkyo
,
Pixelworks
,
PlayStation 5
,
QLED
,
Roku TV
,
Samsung
,
Samsung QN90A
,
Smart TV
,
Sony
,
TCL
,
TCL 98R754
,
TCL X925 Pro
,
Television
,
TrueCut Motion
,
TV
,
Xbox Series X