Meta Platforms released its Q4 earnings on February 2, at which time several media outlets have become quite exercised over the fact that the company's flagship social media platform, Facebook, reported that daily and monthly active users were "1.93 billion on average" and "2.91 billion," respectively, in both Q4 and Q3, i.e., "flat," as in zero growth. While sequential quarterly analysis can be a useful metric, it is more relevant when analyzing startups. For mature companies, a year-over-year analysis that compares like quarters is the Wall Street norm. Launched in 2004, Facebook turns 18 this year.
Several articles that chose to dwell on the flat sequential growth omitted the fact that Meta reported year-over-year Q4 growth of 6 percent for Facebook DAUs and MAUs. The Washington Post writes "news that Facebook may have peaked in 2021 was only the most symbolic data point in a gloomy corporate earnings report that sent Meta's stock into an epic, historic spiral — shearing $220 billion from its value and hinting that the company's reign over online socializing might not last."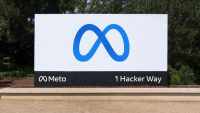 The stock did take a catastrophic 26 percent Thursday dive, attributed not only to the flat sequential Facebook user numbers, but also because Meta reported a $10.2 billion loss for Reality Labs, its virtual reality division.
Even so, Meta reported revenue up 20 percent in Q4 and 37 percent for the year. Net income was up 8 percent for the quarter and 35 percent for the year, which is healthy growth for a mature company.
Last week, Amazon reported doubling its net income almost wholly as the result of an investment in e-car company Rivian during its IPO, while operating income — a much more accurate indication of how its core business is faring — was almost halved and was rewarded with a 14 percent stock spike. Amazon benefitted by beating its forecasts, which Meta, for the most part, did not.
WaPo writes that Facebook's revenue per user grew last quarter, and that "the social network remains massive, indispensable for many, and isn't going away anytime soon."
"This is not Facebook's 'Myspace moment,' at least not yet. Rather, it's a harbinger of a shift already well underway in Menlo Park, one in which Facebook is no longer the center of Meta's attention or the locus of its most important innovations, but a profitable legacy product to be maintained." Which may be true. Or it may be having its "Netflix moment" of game-changing paradigm shift.
"While the company as a whole, which includes Instagram and WhatsApp, continued to grow, its flagship social network — the big blue app, as it's known internally — stalled just shy of 2 billion log-ins a day," writes WaPo, going on to express the consensus view that "to regain its footing, Meta will have to strengthen its focus on growing and making more money off Instagram."
Even that may be challenging, as privacy law changes for Apple iOS and across EU ad markets will impact Instagram as well as Facebook, The New York Times points out. Meta forecasts Apple's new privacy rules could cost the company "$10 billion in lost sales this year," while the "new privacy regulations in Europe represented a clear trend where less data is available to deliver personalized ads," notes NYT.
Topics:
Advertising
,
Amazon
,
App
,
Apple
,
Digital Privacy
,
E-Cars
,
Electric Vehicle
,
European Union
,
Facebook
,
Instagram
,
Internet
,
iOS
,
IPO
,
Meta
,
Meta Platforms
,
Metaverse
,
Mobile
,
Myspace
,
Netflix
,
Privacy
,
Reality Labs
,
Rivian
,
Social Media
,
Virtual Reality
,
Wall Street
,
WhatsApp