Yesterday we reported that FandangoNOW had become the latest retailer to join the Movies Anywhere digital ecosystem. FandangoNOW is the fifth participating retailer, joining iTunes, Amazon Prime Video, Google Play and Vudu. While the announcement was accurate, we mistakenly suggested that Movies Anywhere is a Disney-branded service. While Movies Anywhere is owned by Disney, and some of its underlying tech was developed for the previous Disney Movies Anywhere platform, it should be clarified that the current Movies Anywhere is jointly controlled by five studios: Fox, Sony, Universal, Warner Bros. and Disney.
Earlier this week, Movies Anywhere announced that "FandangoNOW, Fandango's video on-demand service available on more than 200 million connected devices," had become the latest retailer to join the digital movie ecosystem.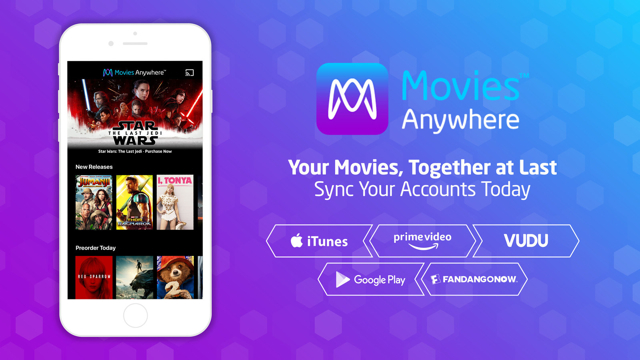 "Using the Movies Anywhere app and website, FandangoNOW customers can access their eligible digital movies from Hollywood's major film studios including Sony Pictures Entertainment, The Walt Disney Studios (encompassing Disney, Pixar, Marvel Studios and Lucasfilm), Twentieth Century Fox Film, Universal Pictures (including DreamWorks and Illumination Entertainment) and Warner Bros.," notes the press release.
Once a FandangoNOW account is synched with the Movies Anywhere service, "users can watch their favorite redeemed and purchased digital movies from participating digital retailers on an array of platforms including Amazon Fire devices; Android devices and Android TV; Chromecast; iPhone, iPad and iPod touch; Roku devices and popular browsers."
"We are thrilled to welcome FandangoNOW, a go-to online destination for movie fans, as our newest digital retailer," said Movies Anywhere GM Karin Gilford. "Movies Anywhere is rapidly revolutionizing the way that consumers access and enjoy their digital movie collections. The app has been used to store over 100 million movies to date. The popularity of Movies Anywhere is largely due to the extraordinary content, including exclusives and promotions, and the support provided through our growing list of online digital retailers."
While "Movies Anywhere is a Disney-owned entity," reports Variety, it "operates independently with input from an advisory committee comprising members from each of the participating studios. Disney in 2014 launched a predecessor service, Disney Movies Anywhere, which served as a digital locker for Disney, Pixar, and Marvel movies. Last October, the company launched Movies Anywhere in partnership with the four other studios."
Topics:
Amazon Fire
,
Amazon Prime Video
,
Android
,
Android TV
,
App
,
Browser
,
Chromecast
,
Disney
,
DreamWorks
,
Fandango
,
FandangoNOW
,
Google Play
,
Illumination Entertainment
,
iPad
,
iPhone
,
iPod
,
iTunes
,
Karin Gilford
,
Lucasfilm
,
Marvel
,
Movie
,
Movies Anywhere
,
Pixar
,
Roku
,
Sony
,
Twentieth Century Fox
,
Universal Pictures
,
VOD
,
Vudu
,
Warner Bros.