Audiobook sellers like Amazon-owned Audible are competing for the ears, not eyes, of book lovers. And they're showing promise. In 2016, audiobook sales climbed to $2.1 billion, representing an 18 percent jump from the previous year (the format experienced a 26.2 percent sales increase during the first three quarters of 2017). Audible represents about 41 percent of all audiobook sales, and when paired with Amazon, which sells audiobooks directly through its website, the two make up more than half of the market. Audible's library includes 400,000 titles and its annual subscriber growth is in the double digits.
"Google and Walmart Inc., though, have recently announced plans to sell audiobooks online. Publishers are growing more aggressive about retaining the rights to produce audio versions of their books, and the price of such rights is increasing quickly," reports Bloomberg.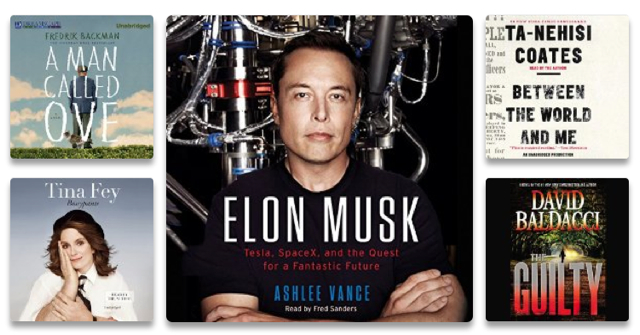 For now, Audible is still the market leader. This is largely because of the company's popular subscription model, through which consumers pay $15 per month for one book a month. Standalone titles can often go for more than $20 a pop. These subscribers spend an average of two hours per day on the Audible app.
"It's the only recognizable audiobook brand, and because customers pay for monthly subscriptions rather than buy each book a la carte, they're less prone to comparison shop," notes Bloomberg.
Additionally, Amazon is integrating Audible into its other products. It was recently announced that Amazon Echo owners can ask their speaker to read one audiobook from Audible in full for free, according to Engadget.
Another way to look at overall audiobook competitiveness is to consider how much the production of audiobooks has increased in recent years. In 2016, 50,000 were produced — more than double the number from two years before.
But Audible is also looking beyond audiobooks, even while literary agents are moving to retain audio rights and publishers oftentimes won't sign book deals without them. Why? In case publishers "choose to work around Audible, the company has also looked to lessen its reliance on publishers," explains Bloomberg.
David Blum runs Audible's original publishing operation, and his job is to push Audible beyond just manuscript readings. Thus far, exciting projects include The Handmaid's Tale author Margaret Atwood working with Audible to "write and record a spoken-word coda to the novel, and comedian David Spade … developing an audio-only memoir," reports Bloomberg.
"We're really trying to break the boundaries," said Blum, "and go to writers and creators and artists to think outside the traditional boundaries of what is a book."