Prior to 2014, home game consoles and PCs ruled the gaming roost, but since then, mobile gaming has gained steady ground. New 2017 numbers indicate that mobile gaming's market lead is widening, with users spending 2.3 times more on mobile than on PC and Mac games and spending 3.6 more than on home game consoles, according to an annual report released from App Annie and IDC. In total, mobile games generated $70 billion in 2017; Mac games generated $34 billion and game consoles generated $22 billion.
These year-end totals include digital and physical spending, but not ad revenue, according to VentureBeat, which adds that these mobile gaming figures include the purchases via the iOS App Store, Google Play, Windows Phone Store, Amazon, Samsung Galaxy and third-party Android stores.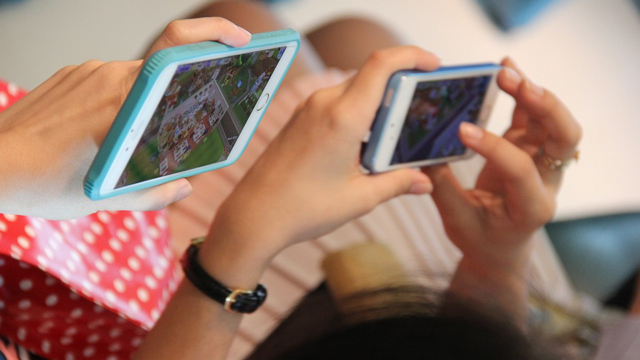 "The top takeaway is mobile gaming sees to accelerate relative to the aggregate games market," said Danielle Levitas, senior vice president of research at App Annie. "The gap continues to grow over the consoles and the PC. It makes sense, as there are now more than 4 billion mobile devices."
For Google Play, games represented a larger share of consumer spending than iOS, however, iOS consumers paid "nearly two times more on iOS games than on Google Play games," reports VentureBeat.
In terms of worldwide consumption and spending, Asia-Pacific increased its spending on iOS and Google Play in 2017, "mostly due to massive growth in China and Japan on iOS, and in South Korea on Google Play," reports VentureBeat. In Asia, consumers spend 22 percent of their time on mobile playing games, compared to 10 percent in the U.S.
In mobile gaming, live player games were often in the top 5 grossing games on both iOS and Google Play, "with titles such as 'Honor of Kings' and 'Lineage 2: Revolution' taking the top spots," notes VentureBeat. "Levitas said that the growing popularity of battle royale games on mobile, like 'PUBG: Exhilarating Battlefield' and 'PUBG: Army Attack,' should drive further growth and live multiplayer engagement in 2018."
Topics:
Amazon
,
Android
,
App Annie
,
Asia
,
China
,
Danielle Levitas
,
Game Consoles
,
Gaming
,
Google Play
,
Honor of Kings
,
IDC
,
iOS
,
Japan
,
Lineage 2: Revolution
,
Live Player Games
,
Mac
,
Mobile Gaming
,
Multiplayer Games
,
PC
,
PUBG: Army Attack
,
PUBG: Exhilarating Battlefield
,
Samsung
,
Samsung Galaxy
,
South Korea
,
Video Games
,
Windows