Fox Corporation's Tubi TV video streaming service is rolling out a proprietary movie recommendation app called "Rabbit AI" in a beta test for iOS customers in the U.S., with other platforms to follow. Powered by OpenAI's GPT-4, currently available only to enterprise and other paying customers, Rabbit AI provides "a new way to navigate" Tubi's library of more than 200,000 movies and TV episodes, "providing hyper-personalized recommendations based on the contextual meaning of the terms," the company says. A Rabbit AI plugin for ChatGPT is also now available to OpenAI subscribers, Tubi says.
When content recommended by Rabbit AI is saved to My List or Watched, Tubi "will surface similar content onto viewer's home screens," according to a Fox press release.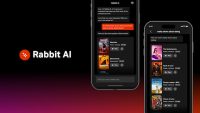 "Tubi's library of streaming content is huge. And kind of impenetrable," The Verge writes, explaining "you can watch its many always-on channels or watch something the service's homescreen recommends, but more likely than not, you're going to spend too much of your TV-watching time scrolling the same endless rows of posters."
With Rabbit AI, Tubi addresses what has been identified by Nielsen and others as the problem of "choice fatigue" — experienced by the majority of streaming customers as a result of overwhelming selection. ChatGPT, Tubi suggests, can help customers find acceptable viewing material faster.
"Data about what people search for and what they end up watching" helps Tubi "figure out more ways to categorize and filter its own library," writes The Verge, quoting Tubi Senior Director of Product Blake Bassett saying Tubi is using search terms to "label the content and enrich our data in the backend" and in doing so empower users in "finding new ways to describe content through these prompts."
Ultimately Tubi feels the improved metadata will help even non-Rabbit users get better and more personalized search results.
AI-powered recommendations and search "isn't a particularly new idea — some of ChatGPT's most useful plug-ins are ones like What to Watch and TMDB that tap into movie and show databases to help you get recommendations — but Tubi is among the first to build AI-powered search right into its platform," The Verge says.
Topics:
App
,
Artificial Intelligence
,
Beta
,
Beta Test
,
Blake Bassett
,
ChatGPT
,
Discovery
,
Enterprise
,
Fox Corporation
,
GPT-4
,
iOS
,
Metadata
,
Mobile
,
Movie
,
Nielsen
,
OpenAI
,
Plugin
,
Rabbit AI
,
Recommendation
,
Search
,
Streaming
,
Subscription
,
Television
,
Tubi TV
,
TV Show
,
Video