Key highlights from this week's two-day Meta Connect virtual event include details about the Quest 3 mixed reality headset, the latest smart glasses from its Ray-Ban collaboration, and an announcement that AI stickers are rolling out across the Meta Platforms apps. Starting at $500, the Meta Quest 3 will add Microsoft 365 apps integration by the end of the year, for those who want to use the gaming headset for productivity. Available for preorder now, the Quest 3 ships October 10. The Ray-Ban Meta smart glasses start at $299 and ship October 17.
"At Meta we are focused on building the future of human connection. We build product to help people build closeness, no matter where in the world we actually are," Meta CEO Mark Zuckerberg said during his keynote, available for video replay along with other presentations at Connect 2023.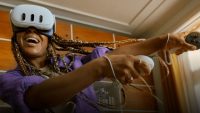 Meta is also improving connection with non-human intelligence, adding "28 more AIs that you can message" that will provide responses approximating IRL personalities including Tom Brady, Snoop Dogg and Paris Hilton.
Detailing Connect's AI news, Meta said it is making available to developers and the public AI Studio, "the platform that supports the creation of our AIs."
With a new Meta AI generative assistant coming to platforms including Instagram, WhatsApp and Messenger as well as Quest 3 and the new Ray-Bans, the AI buddies will also become available on the hardware, too. Those social apps, as well as Facebook Stories, will also debut stickers to identify content created using generative AI.
While Meta previewed the Quest 3 mixed reality headset in June, preempting Apple's Vision Pro announcement, details were saved for Connect.
"The Meta Quest 3 has full color passthrough and it's able to blend augmented reality elements into your physical surroundings," Engadget writes, explaining that "it's the first consumer device that runs on Qualcomm's Snapdragon XR2 Gen 2 chip and Meta claims it delivers double the performance of the Quest 2."
With higher resolution and improved depth of field from its predecessor, the Quest 3 refresh rate remains 90Hz.
As with its predecessors, "the Quest 3 covers the wearer's eyes and sides of their face like a pair of ski goggles," which has been "one of its biggest barriers to widespread adoption, because most of us would rather bury our faces in the glass slabs in our hands than limit our vision in a full-fledged face computer," Wired writes.
The Quest 3 also displays augmented reality and Wired points out that "Zuckerberg, in his keynote address, emphasized that he believes the future of computing is a fully melded, physical-digital world."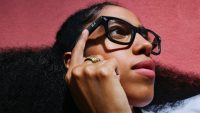 The new Ray-Ban smart glasses improve upon Meta's prior iteration, Ray-Ban Stories. The current model can record 1080p video at 60fps with a 12MP wide-angle camera. A 60-second capture time limit dovetails "quite nicely for Instagram Stories," Engadget points out. The glasses provide 32GB of storage.
"The speakers are louder and leak less noise" while "the charging case looks just like a regular Ray-Ban protective pouch," Engadget adds.
Topics:
Apple Vision Pro
,
Augmented Reality
,
Facebook Stories
,
Generative AI
,
Instagram
,
Instagram Stories
,
Mark Zuckerberg
,
Messenger
,
Meta AI Studio
,
Meta Connect
,
Meta Platforms
,
Meta Quest 3
,
Microsoft 365
,
Mixed Reality
,
Qualcomm
,
Ray-Ban Meta
,
Ray-Ban Stories
,
Smart Glasses
,
Snapdragon XR2
,
Stickers
,
Virtual Reality
,
VR Headset
,
WhatsApp