Last month, Facebook announced it would pay $50 million to 140 media companies and celebrities to create videos for Facebook Live. What's getting attention now are the 15 percent of those recipients who are Internet celebrities popular on platforms such as YouTube, Vine, Snapchat and Instagram. Those celebrities will reap approximately $2.2 million over the next few months to focus their video broadcasts on Facebook Live rather than competing sites. As of yet, Facebook hasn't determined how to generate revenue from Live.
The Wall Street Journal quotes Facebook executive Justin Osofsky as saying that the Internet celebrity deals aren't an "acquisition strategy to go after Vine and YouTube stars," but are meant to "encourage experimentation."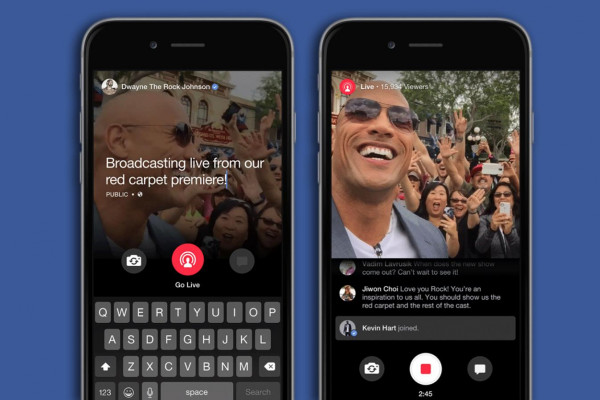 Among the celebrities targeted is Ray William Johnson, the creator of the YouTube series "Equals Three," in which he comments humorously on viral videos. WSJ says that, according to documents it has reviewed, Johnson will make "about $224,000 during 5½ months."
Advertisers are attracted to Internet celebrities, also dubbed "influencers," because "their fans usually are younger and more likely to 'like' or share content." Marketing analytics company Captiv8 reports that advertisers "are paying influencers as much as $150,000 for a single promotional post on Instagram." For their part, Internet celebrities are attracted to Facebook because of its reach: 1.65 billion users.
Another Internet celebrity migrating to Facebook Live is Jon Paul Piques, who gravitated there for better fan engagement. On Vine, where he's posted videos since 2013, he got millions of views. But he likes the instant feedback on Facebook Live. "I can see my followers' comments right on the screen," he said.
YouTube cooking channel "My Cupcake Addiction" host Elise Strachan agrees, noting that although a live video might only get 100,000 views (compared to 1 million), it gets as many as 3,000 comments (compared to 900 to 1,000). WSJ reports Strachan "may be paid up to $196,000 during five months to create live videos."
By paying for content, Facebook is following in the steps of YouTube, which, beginning in 2011, paid "more than $100 million to media companies, Hollywood production companies and online-video creators to create 'channels' on the site." (YouTube now offers creators a share of advertising revenue attached to their content.)
Topics:
Advertiser
,
Advertising
,
Captiv8
,
Elise Strachan
,
Equals Three
,
Facebook
,
Facebook Live
,
Hollywood
,
Influencer
,
Instagram
,
Internet
,
Internet Celebrities
,
Jon Paul Piques
,
Justin Osofsky
,
Marketing
,
My Cupcake Addiction
,
Ray William Johnson
,
Snapchat
,
Social Media
,
Streaming
,
Video
,
Vine
,
YouTube