The top 25 public game companies, which represent almost 80 percent of the $134.9 billion worldwide gaming market, generated $107.3 billion in revenue in 2018. According to researcher Newzoo's Global Games Market Report, this marks the first time that the top 25 companies have surpassed $100 billion in a single year. China's Tencent ($19.7 billion) took the No. 1 spot for the sixth consecutive year, followed by Sony ($14.2 billion), Microsoft ($9.8 billion), and Apple ($9.5 billion). Collectively, the top 10 companies experienced 19 percent growth last year.
Apple and Google have consistently performed well in this market, due in large part to revenue generated from their app stores. "Google recently announced Stadia, the company's cloud gaming platform that allows users to stream entire games via the Internet," reports VentureBeat. The company also "announced the creation of Stadia Games and Entertainment, its own studio that will develop Stadia-exclusive games."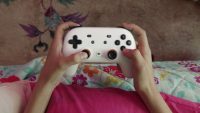 Meanwhile, Apple is planning to launch its new subscription service Apple Arcade later this year, which is expected to offer 100 new games. "Interestingly, the platform features no ads and no in-app purchases, key drivers for growth in the mobile games market in past years," notes VB. "For years, both companies have acquired top talent from the games market but have remained relatively quiet about their expansion plans. It is now clear that both companies will use their unique strengths to greatly expand their activities in the games market."
Newzoo pointed to significant growth in the game console market, with Sony, Nintendo and Microsoft leading the charge.
Sony's successful PlayStation 4 exclusives included "God of War" and "Marvel's Spider-Man," while "third-party titles such as 'Red Dead Redemption 2' also strongly contributed to the company's revenues through the PlayStation Network."
Microsoft outperformed Apple, jumping one position to No. 3, "making strides with its Xbox subscription services, Xbox Game Pass, and Xbox Live," VB added.
Topics:
Advertising
,
Apple
,
Apple Arcade
,
Apps
,
China
,
Cloud
,
Game Consoles
,
Gaming
,
God of War
,
Google
,
Marvel's Spider-Man
,
Microsoft
,
Mobile
,
Newzoo
,
Nintendo
,
PlayStation 4
,
PlayStation Network
,
Red Dead Redemption 2
,
Sony
,
Stadia
,
Stadia Games and Entertainment
,
Streaming
,
Subscription
,
Tencent
,
Video Games
,
Xbox
,
Xbox Game Pass
,
Xbox Live