As new TV Everywhere initiatives and looming Hulu bids continue to draw media attention, video-on-demand is quietly gaining traction. Despite what The New York Times describes as "past missteps by cable and satellite providers," an increasing number of TV episodes and movies are becoming available through VOD systems and viewers are taking note. Some cable providers and TV networks recognize a viable future for the time-shifting technology.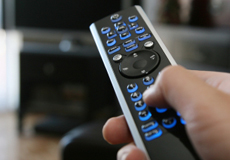 "Some shows, like Fox's 'The Following' and ABC's 'Scandal,' now gain hundreds of thousands of viewers every week because of VOD, part of a decades-long shift from television on a linear schedule to television on viewers' own terms," reports The New York Times. "Some providers, Comcast among them, see VOD as a low-key savior — a way, albeit one of many, to make programming more accessible while keeping customers tethered to their cable subscriptions."
"On-demand isn't always the shiniest new technology. But we are seeing tremendous growth," said Matthew Strauss, who manages digital strategy for Comcast.
"Some television networks are also big believers in the technology because it can help partially piece back together their splintered audiences and protect their advertising revenue," adds the article. "Fast-forwarding can be, and often is, disabled by the cable providers, giving advertisers confidence that their commercials are being seen."
Geri Wang of ABC notes that cable VOD presently accounts for 3 percent of the prime time audience her network sells to advertisers. "That's because this TV season, for the first time, Nielsen counted VOD views of ABC's shows the same way it counts digital video recorder playback — that is, within three days of an episode's premiere," explains NYT.
The same ads aired during broadcast are attached to the VOD version of an episode until the fourth day, at which point ABC substitutes a different set of ads.
Early on-demand capabilities from providers such as Comcast were often cumbersome for consumers and lacked a significant number of hit shows, so VOD became an afterthought for many. But the technology gained traction with movie rentals, children's shows and music videos. Recently, prime time programming from the broadcast networks has become more common and, as a result, viewers are gaining trust in VOD.
While services such as Netflix and Hulu are popular, "there is a case to be made, said one cable industry executive, that they will become less appealing to network owners as the owners get more ad revenue and Nielsen credit for VOD viewing," notes the article.
On-demand views of ABC's shows are up 32 percent this season and Comcast subscribers watch 400 million hours of programming on demand each month, indicating that the strategy may be working. And viewers are attracted to the ease of cable VOD, which does not require any set-up, a user name and password, or an additional monthly bill.
"Television's future most likely involves all of the above on-demand options, not just one," concludes NYT. "Cable VOD will increasingly operate like online video does: timely ads are beginning to be placed in old episodes of TV shows, a long-held dream of the cable industry. Fox will start testing the function, called dynamic ad insertion, with Comcast this summer."
Topics:
ABC
,
Ads
,
Advertising
,
Broadcast
,
Cable
,
Comcast
,
Dynamic Ad Insertion
,
FOX
,
Hulu
,
Music
,
Netflix
,
Nielsen
,
On Demand
,
Prime Time
,
Ratings
,
Satellite
,
Television
,
Time Shift
,
TV
,
TV Everywhere
,
Video
,
Video On Demand
,
VOD