TikTok had a high-profile at New York Fashion Week, courting the marketing departments of companies including Gucci, Madewell and H&M at a splashy event at the East Village restaurant Cathédrale, decorated with mannequins bedecked in TikTok-inspired togs and a video wall featuring the "little luxuries" touted by TikTok users. While TikTok has succeeded in making itself a mandatory advertising outlet for many brands, the Fashion Week outreach was part of the platform's effort to transition to a sales platform in its own right as after a year of testing it finally rolls out TikTok Shop for all U.S. users.
TikTok is adding a Shop button to the app's home screen that will "send people to a marketplace and drive traffic to videos that contain Shop buttons for specific products," according to The New York Times, which says "both enable users to buy products in a few clicks without leaving the app."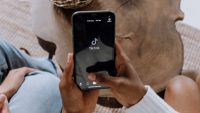 While other social platforms, including Instagram, have given up on similar U.S. sales initiatives, TikTok thinks it can succeed by "actively driving videos with shopping buttons into users' feeds," NYT writes, adding that the company is also "giving generous discounts and coupons to users who shop and forgoing commissions from many sellers" during the roll-out phase.
As a result, TikTok claims to already have 200,000 sellers committed to participating in TikTok Shop, and more than 100,000 creators eligible to make videos and live-stream with shopping buttons.
"E-commerce is a significant bet" for TikTok, "which is hoping to translate the app's power as a cultural trendsetter into another big new revenue stream," NYT reports.
TikTok's Chinese sister company, Douyin, has generated roughly $200 billion from live-streaming sales alone in 2022, according to Chinese marketing firm GMA, reporting 150x growth there since 2018.
With TikTok under fire from states and federal regulators and talks of the app — which is owned by the Chinese company ByteDance — being banned in the U.S., where it says in a TikTop Shop announcement it has more than 150 million users — the company's future here remains uncertain.
While that hasn't stopped ByteDance from making expansion plans, TikTok faces challenges. Los Angeles Times writes of the Shop initiative: "TikTok's new Amazon copycat is full of cheap Chinese goods."
Among the features of TikTok Shop:
In-Feed Video and LIVE Shopping featuring "Shop-tagged" products directly in the For You feed.
A "Product Showcase" that lets users browse products, read reviews, "and purchase directly from a favorite brand's profile page, where businesses can curate collections designed for TikTok users.
Shop Tab linking to a "product marketplace" where customers can search and discover goods and promotions. "Product recommendations are showcased via product listings and shoppable content, and customers can manage orders, all within a single tab," TikTok says.
A variety of affiliate programs that let creators "connect with sellers through new commission-based product marketing opportunities" in order to monetize the platform.