Google is establishing a $20 million fund to promote responsible AI through its charitable arm, Google.org. The investment will provide grants to academics and think tanks as part of the company's new Digital Futures Project, announced on the eve of today's private meeting between Congress and AI-focused tech giants. "AI has the potential to make our lives easier and address some of society's most complex challenges — like preventing disease, making cities work better and predicting natural disasters. But it also raises questions about fairness, bias, misinformation, security and the future of work," Google said.
"Google says it wants broad participation to help answer societal questions such as how AI impacts global security, how it will affect the labor market and how governments can use AI to boost productivity and economic growth," writes Axios, listing "the Aspen Institute, Brookings Institution, Carnegie Endowment for International Peace, the Center for a New American Security, the Center for Strategic and International Studies, the Institute for Security and Technology, MIT Work of the Future, R Street and SeedAI" among the first recipients.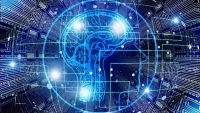 The tech giant says it's aiming to fund the work of "independent thinkers" with a focus on the ethical development and deployment of synthetic intelligence. "'Responsible AI' has been a topic of increased interest as AI advances have picked up speed," writes TechCrunch, noting that "earlier this year, four of the top players in AI, including OpenAI, Microsoft, Anthropic as well as Google, announced a new industry body, the Frontier Model Forum, with the aim of ensuring the 'safe and responsible' development of AI models."
President Biden also convened the top seven AI companies at the White House to have them agree to voluntary safeguards around generative AI, and Europe and Australia have also been very active.
"This week, the U.S. Congress will turn its attention to AI in a closed-door meeting with all 100 senators who will hear from Elon Musk, who recently announced a new AI organization, xAI, along with Meta CEO Mark Zuckerberg, Microsoft co-founder Bill Gates, OpenAI CEO Sam Altman, Google CEO Sundar Pichai and other tech leaders, including the CEOs of IBM, Microsoft, Nvidia and Palantir," TechCrunch reports.
In a blog post, Google.org Director Brigitte Hoyer Gosselink writes that "being bold on AI means being responsible from the start," citing the company's 2018 published AI Principles, as well as a governance team to put them into action.
"Our teams also regularly publish industry-leading research on issues like fairness, equity, security, privacy and safety," Gosselink writes. "But getting AI right will take more than any one company alone. We hope the Digital Futures Project and this fund will support many others across academia and civil society to advance independent research on AI that helps this transformational technology benefit everyone."
Related:
8 More Companies Pledge to Make AI Safe, White House Says, The New York Times, 9/12/23
G-20 Broadens Debate on AI Risks and Mulls Global Oversight, Bloomberg, 9/10/23
Topics:
Anthropic
,
Artificial Intelligence
,
Aspen Institute
,
Bill Gates
,
Brigitte Hoyer Gosselink
,
Brookings Institution
,
Carnegie Endowment
,
CNAS
,
CSIS
,
Digital Futures Project
,
Elon Musk
,
Frontier Model Forum
,
Google
,
IBM
,
IST
,
Joe Biden
,
Mark Zuckerberg
,
Meta Platforms
,
Microsoft
,
MIT
,
Nvidia
,
OpenAI
,
Palantir
,
R Street
,
Sam Altman
,
SeedAI
,
Sundar Pichai
,
xAI