TikTok is introducing new camera and editing tools, a collaboration with Giphy, and support for 1080p video. The platform is also taking on Twitch and YouTube with TikTok Live Studio. The Windows program is currently in a test phase, allowing creators who download it to their desktop to stream live from the host computer or a connected device such as a smartphone or game console. This could keep TikTok fans in-app for live streaming, eliminating the need for third-party broadcast software like Streamlabs or OBS Studio.
In its prototype form, TikTok Live Studio lacks some of the features that have made Streamlabs and OBS Studio popular, but it can do some nifty things.
TikTok Live Studio lets creators interact with viewers through a live chat feature, and "creators can switch on features like gifting, comments and keyword filters. However, they're unable to set browser windows as a source for their streams, have moderators or create alerts for new followers or tips" like they can using OBS and Streamlabs, Engadget reports.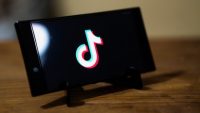 TechCrunch says TikTok Live Studio is currently testing in a few Western markets where it is available to several thousand viewers, and the company is using this test phase to "study what creators are using the software for, then tailor it to better suit those use cases." At the moment, there is no talk of an Apple version, nor even any guarantee TikTok Live Studio will eventually be productized.
Meanwhile, TikTok is rolling out a host of additional features, including updates to its camera and editing tools. One of the platform's most popular features, the Green Screen tool, now supports GIFs, the result of a collaboration with Giphy (which Facebook purchased last year). Users can select from a library of background images for a mixed-media effect. "For example, users could record 'reaction' videos with a GIF as the background, or they could use the tool to showcase or reference a particular meme," TechCrunch explains.
Continuing to try to appeal to more sophisticated creators, TikTok says it plans to allow for uploading videos in 1080p HD, a feature that will be available only in certain countries. A visual enhancement button that improves exposure under low-light conditions and can perform color correction are additional updates.
"The idea is to offer users who aren't necessarily video experts an easy one-tap tool that can make their content look better," TechCrunch reports. New music and sound effects are also being added to the package.
And, to further cement its community, TikTok has debuted its own Discord, according to TechCrunch. "If the fast-food chain Wendy's can have a Discord with over 60,000 members, why not a viral platform like TikTok?" TechCrunch asks. "Now, on TikTok's brand new Discord, you can chat with strangers about… whatever you'd want to talk to a bunch of TikTokers about."
Topics:
1080p
,
App
,
Apple
,
Chat
,
Creator
,
Desktop
,
Discord
,
Editing
,
Facebook
,
GIF
,
Giphy
,
Green Screen
,
Live Streaming
,
Memes
,
Mobile
,
Music
,
OBS Studio
,
Social Media
,
Streaming
,
Streamlabs
,
TikTok
,
TikTok Live Studio
,
Twitch
,
Video
,
Visual Enhancement
,
Wendy's
,
Windows
,
YouTube