The Israel Conference is scheduled for May 30-31 at the Luxe Hotel on Sunset Boulevard in Los Angeles. The two-day event will feature 75 speakers discussing innovation, technology and design as part of a collection of keynotes, panel discussions and special networking events. New this year is FutureFest, in which emerging technologies and consumer products will be presented to judges, including prominent VCs and CEOs of multinational companies.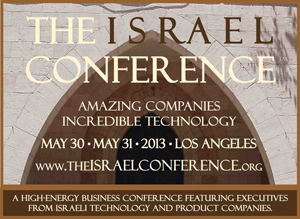 The event is co-chaired by Yossi Vardi, chairman of International Technologies, and Sharona Justman, managing director of STEP Strategy Advisors. ETC@USC is an academic sponsor of The Israel Conference.
Panels during this year's event will focus on big data, investing in tech, second screens, visual storytelling, changes in mobile, innovative energy and medical solutions, cities of the future and more.
The event's Pavilion of Companies is an exposition area that offers opportunities to "network with senior executives, engage future customers, enjoy attention from partners, meet over 700 business executives, CEOs, CTOs, financiers, angels, VCs and private equity firms," explains the event site.
Early Bird registration has ended, but special pricing for multiple tickets is still available on the registration page.
Topics:
Big Data
,
Business
,
Conference
,
FutureFest
,
Hollywood
,
Innovation
,
investing
,
Israel
,
Israel Conference
,
Keynote
,
LA
,
Los Angeles
,
Luxe
,
Luxe Hotel
,
Mobile
,
Networking
,
Panel
,
VC