European telecoms and Silicon Valley giants are jousting again, at the annual Mobile World Congress in Barcelona. The major carriers, including Deutsche Telekom AG and Spain's Telefónica SA are pushing for the European Union to either lift some of the regulations imposed on them or apply similar rules to Internet-based text and voice services, such as Facebook's WhatsApp or Google Hangouts. At the same time, several telecoms have signed on to Facebook's TIP project, an open source initiative to design cellular towers.
The telecoms' beef is that they spend the money to build the physical infrastructure that Internet companies then use for free, notes The Wall Street Journal. In Barcelona, "top executives from 11 European carriers, including Vodafone Group PLC and Orange SA," are meeting with the EU's executive arm to push for the inclusion of online platforms in its overall review of telecommunications policy.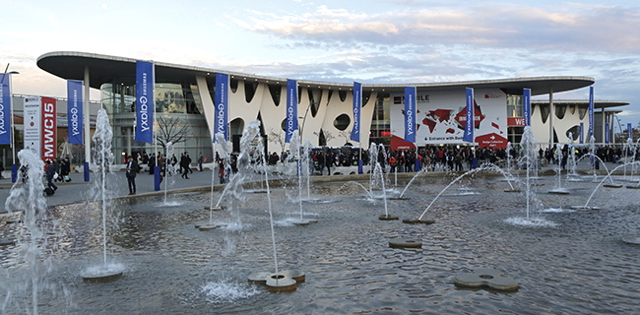 "Current regulation has to change," said Telefónica chief executive César Alierta. The goal, he adds, is "same service, same rules, same protection."
Since Facebook embraced video, says WSJ, it now accounts for 16 percent of a mobile carrier's traffic in North America, behind only YouTube at 20 percent, according to a Sandvine report in December 2015. The Silicon Valley companies also eat into telecom voice and text profits.
Privacy rules are another bone of contention, since telecoms can only sell location-based ads with difficulty, something that's a cash cow for Google and Facebook. The recent brouhaha between Apple and the FBI also riles telecom executives who note that they are legally required to cooperate with law enforcement.
"If I need to provide services to the authorities in case there's trouble, they should do the same," said Vodafone chief executive Vittorio Colao, who notes that telecoms should also be able to capture customer traffic and data. "I think equal treatment should be applied because the services are the same." Telecoms also complain that Google forces them to install a complete suite of apps to carry the phones, an issue the European Commission is formally investigating.
Facebook is both standing its ground and trying to appease the telecoms. Zuckerberg told telecom chiefs he supports their bid for less regulation — but opposes an extension of telecom rules to his company and others like it.
To appease telecoms, however, Facebook has also joined with 30 companies, including Intel, Nokia, Deutsche Telekom and other carriers, to share information about designing cellular networks. The Telecom Infra Project (TIP) is aimed at making it "easier and less expensive for telecommunications companies to connect people in places that don't have cellular service." The open-source initiative enables companies to solicit ideas for design improvements from anyone who wants to contribute.
Although AT&T is in active discussions to join TIP, other telecoms are holding back, concerned that the new initiative "could eventually lead to a direct challenge to their core business of building and running networks." Still, the move represents an easing of tensions. "I think both sides realize they need each other," said Nokia chief executive Rajeev Suri.
Topics:
Advertising
,
Apple
,
Apps
,
AT&T
,
César Alierta
,
Deutsche Telekom
,
European Commission
,
European Union
,
Facebook
,
FBI
,
Google
,
Hangouts
,
Mark Zuckerberg
,
Mobile
,
Mobile World Congress
,
Nokia
,
Orange
,
Privacy
,
Rajeev Suri
,
Sandvine
,
Silicon Valley
,
Telecom Infra Project
,
Telecoms
,
Telefónica
,
Vittorio Colao
,
Vodafone
,
WhatsApp
,
YouTube