Although smartphones are becoming commodities, the mobile industry operators, developers, and Internet companies attending the 2016 Mobile World Congress aren't worried. That's because the focus is on the Internet, especially the upcoming 5G networks, which power not just mobile phones but all connected devices. The show is a hotspot for the new gadgets, licensing and partnership deals, frenzied competition and new entrants driving the industry to create services and devices that work seamlessly together.
Wired identified the "trends that have come to define" the 2016 Mobile World Conference: virtual reality, 5G networks, and efforts to connect and regulate everyone. With regard to VR, Facebook chief executive Mark Zuckerberg appeared at a Samsung event to tout that company's Gear VR headset, based on Oculus technology and announced that Facebook will now pursue social apps for the Oculus Rift.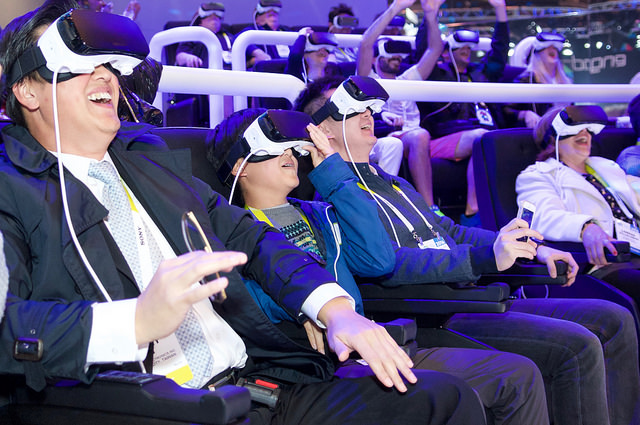 For VR to go mainstream, 5G networks are imperative, notes Wired, since it will "amp up the speed considerably with low latency." However, The New York Times reports that 5G won't have a significant presence until the next decade, mainly because the carriers and manufacturers are struggling to define global standards. Even so, says NYT, "Verizon Wireless and telecom equipment makers like Ericsson from pushing ahead with 5G trials."
When it does arrive, 5G will enable consumers to download HD movies in less than 5 seconds and enable Internet of Things devices and services. "When combined, these hundreds of millions — potentially billions — of new sensors will require almost universal connectivity, or the ability to go online no matter where they are, forcing operators to extend their networks to practically every corner of a country," says NYT.
Among the IoT sectors that will be impacted by 5G are autonomous vehicles, which, says NYT, "will have to communicate almost in real time with everything around them to avoid cyclists and other obstacles."
Wired points out that nearly two-thirds of the global population (four billion people) still isn't yet online, and many Mobile World Congress attendees want to get them connected, for both altruistic reasons and the potentially huge revenue streams. Among those efforts is Facebook's Internet.org, which includes "both the Free Basics program that was just banned in India and the drones and lasers that Facebook is currently testing." Cheaper prices for smartphones will also help; one Indian device manufacturer is rumored to plan to sell a phone for less than $4.
Another ongoing and still-hot topic at Mobile World Congress is regulation, as operators "continue to gripe that the Internet companies should be regulated" as telcos since they (especially Facebook, with Messenger and WhatsApp) provide a "communications product."
Key to the mobile future, says Wired, is trust, noting the battle between Apple and FBI. The outcome of this dispute, it says, "will inform the direction in which many of the digital businesses here evolve."
Topics:
5G Networks
,
Apple
,
Autonomous Vehicles
,
Ericsson
,
Facebook
,
FBI
,
Gear VR
,
Internet
,
Internet of Things
,
Internet.org
,
IoT
,
Licensing
,
Mark Zuckerberg
,
Messenger
,
Mobile
,
Mobile World Congress
,
Oculus Rift
,
Samsung
,
Sensors
,
Smartphones
,
Social Apps
,
Social Media
,
Verizon Wireless
,
Video
,
Virtual Reality
,
VR
,
WhatsApp