Wireless carrier Sprint and streaming music service Spotify are reportedly joining forces to push the music service out to Sprint's customers, similar to a plan already underway between AT&T and Beats Music. The new partnership will include free Spotify trials for Sprint customers and the option to pay for the music service using Sprint's billing system. Spotify's premium service costs $9.99 per month, although some Sprint customers will likely qualify for discounts.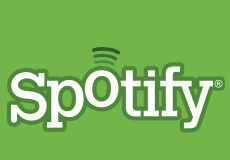 Sources say that Sprint CEO Dan Hesse is expected to announce the deal in New York City on April 29. However, moving forward with the partnership will require approval from the major labels that license their music to Spotify, which may prove to be a hurdle.
"Subscription music services have linked up with wireless carriers and pay TV companies outside of the U.S. Until this year, however, none of the major wireless companies in the U.S. were aligned with music services," reports Re/code. "In January, Beats launched in conjunction with AT&T, with a program similar to the one Sprint and Spotify are planning."
The Beats deal offers AT&T family plan customers a discount on the $9.99/month music service. Up to five individuals can share the service for $15/month. Insiders suggest Sprint and Spotify will take a similar approach with Sprint's new "Framily" plan.
"Recently Samsung inked a bundling deal with French on-demand service Deezer for its Galaxy S5 phone, and Rhapsody said it ramped up its subscriber base by over 60 percent in less than six months thanks to a partnership with Telefonica," notes Billboard. "Launching a mobile bundle would be one more important step in Spotify's run-up to a much expected IPO which many believe will happen later this year."
Topics:
Agreement
,
Album
,
Announce
,
App
,
Artist
,
AT&T
,
Beats
,
Billboard
,
Billing
,
Bundle
,
Carrier
,
Customer
,
Deal
,
Deezer
,
Discount
,
Galaxy
,
Hesse
,
IPO
,
Label
,
License
,
Licensing
,
Marketing
,
Mobile
,
Music
,
New York
,
NYC
,
Partner
,
Payment
,
Phone
,
Plan
,
Premium
,
Promotion
,
Provider
,
Recode
,
Rhapsody
,
Samsung
,
Smartphone
,
Song
,
Special
,
Spotify
,
Sprint
,
Stream
,
Streaming
,
Subscribe
,
Subscription
,
System
,
Tablet
,
Telco
,
Television
,
Track
,
Trial
,
TV
,
Unveil
,
Wireless