At CES 2017, OLED TVs were more numerous and considerably less expensive than past years. LG, for example, continuously lowered its OLED prices throughout 2016; its cheapest model, the B6, initially was priced at $4,000 and came down to $2,000 by October, with another $200 off for Black Friday (although the price is back up to $2,500). Lowered OLED prices are due, in part, to production increasing by 70 percent last year. OLED TVs are desirable for their thinness, improved contrast ratios and wider viewing angles.
Engadget reports that LG's new W-series "wowed us so much, it won both our Best TV and Best of the Best awards at CES." No prices are available for the W-series OLED sets, although Best Buy lists the 65-inch W series at $8,000. It reports that, "OLED sets typically look brighter than LCDs, though newer 4K LCDS have also bumped up their brightness levels considerably."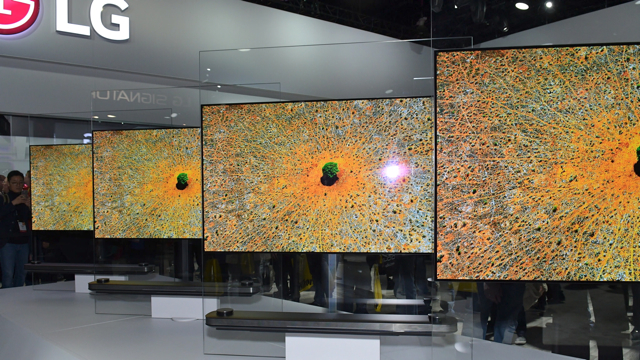 Still, LG's OLEDs are pricier than 4K LCD TVs, adds Engadget, which notes that, "most consumers will likely choose screen size over quality."
Wired reports that LG now has competition in the U.S. for OLED TVs, with Sony's first entry, which it dubs "freaking gorgeous." "Sony's Bravia OLED A1E is … slim, and it sports a cool stand so you can prop it up like a giant picture frame," while its "4K HDR panel supports Dolby Vision content, runs Android TV, and provides built-in Chromecasting," all controllable via Google Home.
Because the set features an edge-to-edge picture, Sony relies on Acoustic Surface technology so that the sound emanates from behind the screen.
According to Pocket-lint, Panasonic also showcased an OLED TV at CES. The EZ1002 4K OLED is "said to produce double the brightness levels of a regular OLED screen to make HDR pictures wow even more." The set handles HDR10 and Hybrid Log Gamma HDR formats, and a "dynamic blade" "tuned by audio sub-arm Technics and an Absolute Black filter to produce the blackest blacks ever seen on an OLED screen."
Topics:
4K
,
Absolute Black
,
Acoustic Surface
,
Android TV
,
Audio
,
Best Buy
,
Best of CES
,
Bravia
,
Bravia OLED A1E
,
CES 2017
,
Chromecast
,
Contrast Ratio
,
Dolby Vision
,
EZ1002
,
Google Home
,
HDR
,
HDR10
,
Hybrid Log Gamma
,
LCD TV
,
LG
,
LG B6
,
LG W-Series
,
OLED
,
Panasonic
,
Panasonic EZ1002
,
Sony
,
Technics
,
Television
,
Viewing Angles