Samsung unveiled a new line of TVs at CES, dubbed QLED, which replaces its two-year old SUHD premium line-up. QLED offers better viewing angles, HDR, and 100 percent of the DCI-P3 color space as well as improved black levels. The Samsung Q7, Q8 and Q9 QLED models can be mounted flush with the wall, using the company's proprietary mounting system. Two tabletop stands, made of stainless steel and aluminum, include an easel-style floor stand. A new fiber-optic system makes the connecting cable almost invisible.
Digital Trends terms the QLED "a notable leap forward in TV tech," although not radically different. Pocket-lint describes the foundations of QLED, or Quantum Dot LED, as having "similar properties" to OLED (Organic Light Emitting Diodes). For now, Samsung is alone among TV manufacturers in relying on this technology.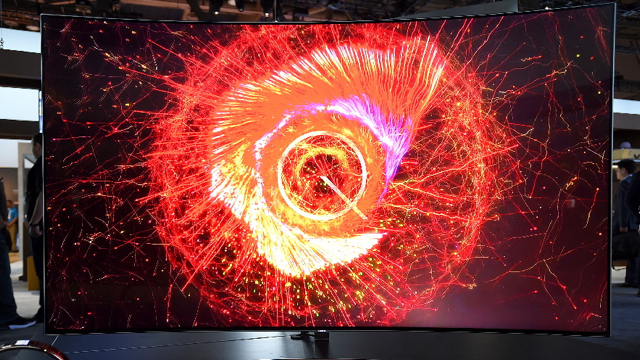 The difference between QLED and OLED, it says, is that QLED TVs "still rely on an LCD backlight" whereas OLEDs produce their own light. "QLED screens use new backlighting system, which produces light from all directions, as opposed to pixels in regular LCD panel TVs being lit from one direction," it continues. "This new way of lighting a picture not only improves color and contrast, but viewing angles as well."
The biggest advantage of QLEDs is that they can reach "peak brightnesses between 1,500 and 2,000 nits … leaving OLED screens very much on the back burner."
The Verge adds that Samsung, with its new QLED TVs, is "challenging the notion that OLED TVs represent the pinnacle of picture quality in the living room." Since 2016, Samsung has improved its QLED line-up's brightness, from 1,000 nits in 2016, to today's peak 2,000. The company also claims that its ability to represent 100 percent of the DCI-P3 color space is "a world's first."
However, skeptics point out that QLEDs still require backlighting and, as such, do not reinvent TV displays the way that self-lighting OLEDs do.
The new Samsung TV line-up is still powered by Tizen, with essentially the same user interface as last year's. The exceptions are a Sports mode that aggregates scores and other content from selected teams, and an "expanded Music section that lets you Shazam music as it's playing in a TV show and immediately launch that track in Spotify" or another streaming service.
Topics:
Brightness
,
CES 2017
,
CTA
,
DCI-P3
,
DCI-P3 Color Space
,
HDR
,
Las Vegas
,
LCD
,
Music
,
OLED
,
QLED
,
Quantum Dot
,
Quantum Dot LED
,
Samsung
,
Samsung Q7
,
Samsung Q8
,
Samsung Q9
,
Shazam
,
Sports
,
Spotify
,
Streaming Services
,
SUHD
,
Television
,
Tizen
,
TV Manufacturers
,
TV Shows
,
User Interface