Global consumer social app spending is expected to hit $17.2 billion by 2025, up from $6.78 billion in 2021, according to a study by San Francisco-based mobile analytics firm App Annie. That's a 29 percent compound annual growth rate (CAGR) over five years — a brisk pace credited mainly to live streaming. By 2025, the lifetime total spend on social apps is expected to reach $78 billion, according to App Annie. Meanwhile, time spent using social media the globe over totaled a whopping 740 billion hours for the first half of 2021, with 548 billion hours devoted to live streaming.
"At the heart of these trends is the importance of video, live streaming and the creator economy," wrote App Annie head of insights Lexi Sydow in a blog post. "The ability of social media users to communicate with each other using live video — or watch others' live broadcasts — has not only maintained the growth of a social media app market, but contributed to its exponential growth in engagement metrics like time spent, that might otherwise have saturated some time ago."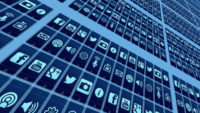 The U.S. was No. 1 in social app spending, totaling nearly $1 billion for the first half of 2021. India was second, with consumers shelling out close to $600 million. China racked up about $300 million in mobile social app spending during that time, placing third.
Despite its spending clout, in terms of engagement hours the U.S. was a distant fourth — behind China, India and Brazil. The people of China logged about 170 billion hours on Android mobile social apps during H1 2021, India just under 160 billion hours, Brazil about 50 billion hours and the U.S. just under 40 billion.
Meanwhile, video "has upended the streaming and social landscape" with average monthly time per-user surpassing YouTube in the U.S. and UK in H1, per the App Annie study, which looks at a 10 year period. In 2021 TikTok grew significantly in South Korea, where YouTube still leads by about 250 percent, and in Japan.
While app creators and the platforms are reaping financial rewards as a result of the live-streaming boom, the platforms are benefitting not only from commissions, but also through revenue from in-app purchases, observes TechCrunch. Apps built around live streaming are fueling the majority of today's social app spending, with $3 of every $4 spent on the top 25 social apps generated by apps offering live streams.
While the early live-stream economy relied on one-off purchases, on things like sticker packs, today, consumers are sending funds directly to content creators during the live streams. TechCrunch reports "Twitch streamer ExoticChaotic was gifted $75,000 during a live session on 'Fortnite,' one of the largest-ever donations on the game-streaming social network."
Then there's Bigo Live, which App Annie says enables channels to earn up to $24,000 per month via their live streams. Today, apps with live streaming are growing faster those limited to just text, chat, photos or video, which is why Instagram is "no longer a photo sharing app," TechCrunch writes.
Live-streaming interest among consumers has shaken-up the entire social app hierarchy, according to one of the App Annie report charts, which shows in 2020 TikTok overtook Facebook and its family of apps (Facebook, Messenger, Instagram and WhatsApp), and continuing to lead globally in 2021.
In its analysis of the report, USA Today notes "some creators are even being encouraged to get paid to produce original content on apps. Facebook CEO Mark Zuckerberg recently said the social network is planning to pay up to $1 billion to those who create content on its platforms through 2022."
"This could explain why TikTok is now exploring the idea of allowing users to upload even longer videos, by increasing the limit from 3 minutes to 5," speculates TechCrunch. "In addition, because of live streaming's ability to drive growth in terms of time spent, it's also likely the reason why TikTok has been heavily investing in new features for its TikTok LIVE platform, including things like events, support for co-hosts, Q&As and more."
Topics:
Android
,
App Annie
,
Apps
,
Bigo Live
,
Brazil
,
China
,
ExoticChaotic
,
Facebook
,
Facebook Messenger
,
Fortnite
,
India
,
Instagram
,
Japan
,
Lexi Sydow
,
Live Streaming
,
Mark Zuckerberg
,
Mobile
,
Social Apps
,
Social Media
,
Social Spending
,
South Korea
,
TikTok
,
Twitch
,
United Kingdom
,
United States
,
Video
,
WhatsApp