Snap Inc. announced plans to cancel ongoing projects such as Snap Originals, in-app multiplayer games, HTML mini-apps built by outside developers, and future development of its Pixy selfie-camera drone — all part of a corporate restructuring that will include laying off about 20 percent of its more than 6,400 employees. The company, which operates the popular social media app Snapchat, is taking cost-cutting measures as it faces growing competition from TikTok and other rivals and challenges to its core digital advertising business.
Snap also revealed it has plans to shutter its social map app Zenly as well as Voisey, its app that connects singers, songwriters and music producers.
Yesterday, the company "said it has seen 8 percent revenue growth so far in the current quarter, lower than anticipated earlier in the year," reports The Wall Street Journal. "Snap warned staff it may suffer a period of low revenue growth well into next year."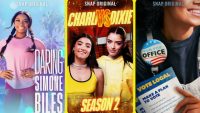 "It has become clear that we must reduce our cost structure to avoid incurring significant ongoing losses," Snap co-founder and CEO Evan Spiegel wrote in a memo to his staff. "We must now face the consequences of lower revenue growth and adapt to the market environment."
"The company estimates the structural changes will cost it between $110 million and $175 million in one-time expenses," notes WSJ. The changes will include "lower marketing spending and trimmed spending on real estate and overhead functions."
In the company memo, Spiegel explained that Snap is restructuring "to increase focus on our three strategic priorities: community growth, revenue growth, and augmented reality."
As part of the company's leadership restructuring, "Jerry Hunter, the company's engineering chief, will become chief operating officer overseeing all monetization, growth, partnerships, and engineering," reports The Verge. "Snap's chief business officer and top ads exec, Jeremi Gorman, announced Tuesday that she was leaving to run Netflix's forthcoming ad-supported tier."
Snap is expected to lay off 20 percent of its global workforce, close to 1,300 employees. The company "doubled in size since the start of the pandemic, going from roughly 3,400 employees in March 2020 to about 6,400 at the end of the second quarter," according to Gizmodo.
"Snap has been hit by Apple's ad tracking changes on iOS, which asks users whether they want the app to track their activity online for advertising purposes," Gizmodo points out. "In its second-quarter earnings call, the company added that it's seen an impact from persistently high inflation, rising interest rates, and rising geopolitical risks associated with the war in Ukraine."
Amazon, Netflix, SoundCloud, TikTok, Twitter, Vimeo and Facebook parent Meta Platforms are among other major tech companies planning cutbacks as industries continue to be affected by a variety of factors that have led to deteriorating market conditions.
Related:
Snapchat to Lay Off More Than 1,200 Staffers, or 20% of Global Headcount, CNN, 8/31/22
Snap Cuts 20% of Employees and Restructures, The New York Times, 8/31/22
Snap Layoffs Derail Investor Confidence, Again — But This Top Analyst Remains Bullish, Yahoo, 8/31/22
Netflix Appoints Two Snap Executives to Lead Its Advertising Push, The Wall Street Journal, 8/30/22
Snap Scraps Development on Flying Selfie Pixy Drone, The Wall Street Journal, 8/18/22
Topics:
Ad Tracking
,
Advertising
,
Amazon
,
Apple
,
Augmented Reality
,
COVID-19
,
Evan Spiegel
,
Facebook
,
Gaming
,
iOS
,
Jeremi Gorman
,
Jerry Hunter
,
Mapping
,
Meta Platforms
,
Music
,
Musician
,
Netflix
,
Pixy
,
Producer
,
Real Estate
,
Singers
,
Snap Inc.
,
Snap Originals
,
Snapchat
,
Social Media
,
TikTok
,
Twitter
,
Ukraine
,
Vimeo
,
Voisey
,
Zenly