At the Industry Luncheon on SMPTE 2015's second day, Verizon Digital Media Services chief product officer Ted Middleton delivered the keynote address, which was, in part, a paean to the joys of linear TV. The luncheon also honored Wendy Aylsworth, the first woman to be SMPTE president, and showed a trailer for "Moving Images," a retrospective of the science and engineering behind the industry's cinema and television, directed by Howard Lukk and sparked by SMPTE's upcoming 100th anniversary.
TV Technology quoted Middleton as saying that, "sometimes, you just want to sit down and tune in and turn off." "Now I have to think about it," he added. "What application is that on? And where is that app? We've created an environment where people have to think about what they do before they watch."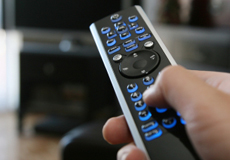 Middleton insisted that "reports of the impending doom of linear TV are premature" despite the digital drumbeat of mobile, TV anywhere and decreasing subscription services. He did admit that, although there is a "vast amount of content to choose from," consumers don't want to pay for a lot when they're actually consuming only "a little bit of it."
Despite the allure of VOD, said Middleton, linear TV has the advantage of being "live, local" and "you don't have to do a lot of thinking." Middleton doesn't believe we're approaching "the end of broadcasting" but did note that it's going to change.
"In the next 10 years, many people won't be paying for TV," he predicted. Verizon Digital Media Services, he said, is a digital platform for linear content from broadcasters and publishers, providing a unified workflow for VOD, live and linear consumption.
Advertising will also change, he said, becoming more targeted and engaging, and less intrusive. Likewise bundling and packaging will have to evolve. Cloud DVR is another solution, said Middleton, but it requires "the appropriate technical approach without triggering litigation."
Topics:
Advertising
,
Bundling
,
Cinema
,
Cloud DVR
,
Digital Platform
,
Film
,
Howard Lukk
,
Internet
,
Linear TV
,
Litigation
,
Live TV
,
Mobile
,
Movie
,
Moving Images
,
Packaging
,
SMPTE
,
SMPTE 2015
,
Streaming
,
Subscription
,
Ted Middleton
,
Television
,
TV Anywhere
,
Verizon
,
Video
,
VOD
,
Wendy Aylsworth