Sling TV announced that it reached 2.212 million subscribers at the end of Q4 2017, a year-over-year growth of 47 percent. The Dish-owned streaming TV service, one of the first OTT streaming options for ESPN, now leads competitors in this space such as DirecTV Now, PlayStation Vue and newcomers YouTube TV and Hulu Live TV. However, it was also the first live TV streaming service to launch, giving it the most time to accumulate subscribers, and is facing an increasing number of rival streaming options. Meanwhile, DirecTV Now picked up more than 1 million subscribers last year. 
Sling TV launched in February 2015, and had the most time to attract consumers looking to sever the cord with traditional cable and satellite TV providers. The service generated 623,000 subscribers in its first year. Its numbers reached 1.5 million in 2016, and 2.21 million by the end of 2017.
Sling TV is presently ahead of "AT&T's one-year-old DirecTV Now, which announced 1 million subscribers back in December 2017, and has since grown to 1.2 million," reports TechCrunch. "It's also leading Sony's PlayStation Vue, as well, which reportedly had 455,000 subscribers in December, though some analysts peg it to now have 670,000 subscribers."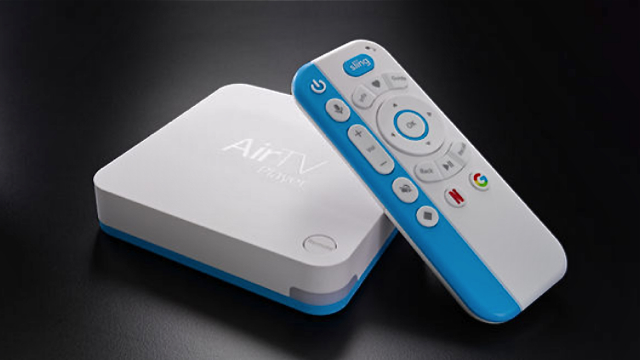 Sling TV originally targeted cord cutters with an affordable $20 per month package, and has since expanded its service with multiple tiers, one of which offers support for simultaneous streams across three devices. The service recently launched its Android TV-based AirTV Player (pictured above).
Despite its growing numbers, Sling TV is facing increased competition. "Sling TV no longer only competes with pay TV, video-on-demand services like Netflix and other live TV rivals, like DirecTV Now," TechCrunch explains. "It faces competition from a host of online TV services, including those that are focused on niches like sports (e.g. fuboTV) or entertainment (e.g. Philo), as well as the over-the-top services from the networks themselves, like HBO Now, Starz, Showtime and CBS All Access."
"In the past, Dish has combined its Sling TV numbers with its regular Dish TV satellite customers when reporting subscribers, making it difficult to get an idea of how many Sling TV users were actually out there," notes The Verge. "But the Internet streaming service will still have some work to do before it beats out the satellite side of the company, which Dish reported has just over 11 million subscribers."
Topics:
AirTV Player
,
Android TV
,
AT&T
,
Cable TV
,
CBS All Access
,
Cord Cutters
,
DirecTV Now
,
Dish
,
ESPN
,
fuboTV
,
Google
,
HBO Now
,
Hulu Live TV
,
Internet
,
Live TV
,
Netflix
,
OTT
,
Pay TV
,
Philo
,
PlayStation Vue
,
Satellite
,
Showtime
,
Sling Blue
,
Sling Orange
,
Sling TV
,
Sony
,
Sports
,
Starz
,
Streaming
,
Subscribers
,
Subscription
,
Television
,
Video
,
VOD
,
YouTube TV