At the HPA Tech Retreat in Palm Desert, California (produced by the Hollywood Professional Association), a panel of industry professionals described the vicissitudes of mastering in an era of dozens of formats, standards and devices. The conversation quickly became interactive, with attendees asking questions that related to their work in the media & entertainment industry. One question, harkening back to the premium for producing and posting HD material when it first came on the scene, was about the additional costs of working with UHD and HDR.
Interestingly enough, every panelist had a different answer. HBO director of media and production operations Erik Hansen said it was 25 percent more expensive than producing HD/2K SDR material. "Every time we make a change, from SD to HD, SDR to HDR, it seems to cost 25 percent more," he said.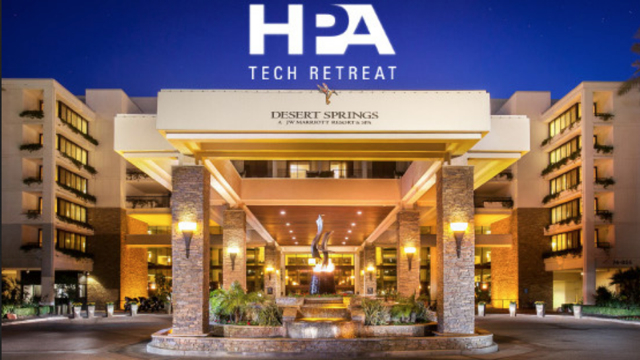 Netflix manager of production technologies, imaging and sound Jimmy Fusil had a different experience. "I think we've done HDR for less than that, especially if you change nothing during capture," he said. "On the UHD side, it's highly variable depending on whether your visual effects are in 4K."
NBCUniversal vice president of creative technologies Annie Chang recalled working on "Tomorrowland," in 4K. "It was a lot of zeroes," she reported.
Walt Disney Studios vice president of mastering Kari Grubin, who moderated the panel, agreed with the assessment that the variables make a big difference. "If you're rendering 2,000 to 3,000 VFX, it may be faster but it's still a heavy lift," she says. "When you're racing up against a window and have to get 300 DCPs out in the world, it's about the time. Filmmakers look about what is the most bang for the buck. Some things, like water, benefit from the higher resolution. But based on an analysis of VFX, some things with high movement don't show a big difference between 2K and 4K. Sometimes an end-to-end 4K doesn't make sense."
Consumer adoption of HDR television sets was also regarded as key to pushing this technology forward. What will that take, wondered one attendee. Fusil noted that if a consumer goes to Best Buy and picks the TV that looks the best to him, he often picks one that is HDR-compatible. "People are seeing the difference without the education," he said.
UHD is a different story, with "limited outlets." But that, he added, is changing fast with the Olympics and the World Cup. "Maybe that update will happen in a more natural way, like getting an update on your phone or computer," he said. "It's a choice being made now without labels attached, more of a visceral choice."

Grubin noted the limitations across the U.S. with regard to bandwidth. "You may not get the optimal experience in your home quite yet," she said. "And the millennial generation isn't focused on TV, but other devices."
Another issue was the difficulty of making a single piece of content optimal in not just HDR but SDR. "Fidelity is the next thing we really need to tackle as an industry, in partnership with our viewers and manufacturers," said Fusil. "What we do with SDR masters is a very interesting thing to be looking at. We have to ask, how do we make sure that also adds value to the viewer and filmmaker."
Topics:
2K
,
4K
,
Annie Chang
,
Best Buy
,
California
,
DCP
,
Erik Hansen
,
Formats
,
HBO
,
HD
,
HDR
,
HPA
,
HPA Tech Retreat
,
Jimmy Fusil
,
Kari Grubin
,
Mastering
,
Media & Entertainment
,
NBCUniversal
,
Netflix
,
Olympics
,
Production
,
RAW Files
,
SD
,
SDR
,
Standard
,
Television
,
Tomorrowland
,
UHD
,
Ultra HD
,
Visual Effects
,
Walt Disney Studios
,
World Cup