People are accustomed to accessing on-demand video at will, so a flight on an airplane with a communal TV screen can be jolting. Now, startup SkyLights aims to let airline passengers don a virtual reality headset to watch the latest 3D Hollywood movies. French entrepreneur David Dicko's company offers a headset with six-hour battery life and noise-canceling headphones, which has been tested on flights for almost one year. French carrier XL Airways will soon begin to offer SkyLights headsets for rent, at $16 per flight.
The New York Times quotes Dicko as saying that, "people on planes are hungry for different entertainment options."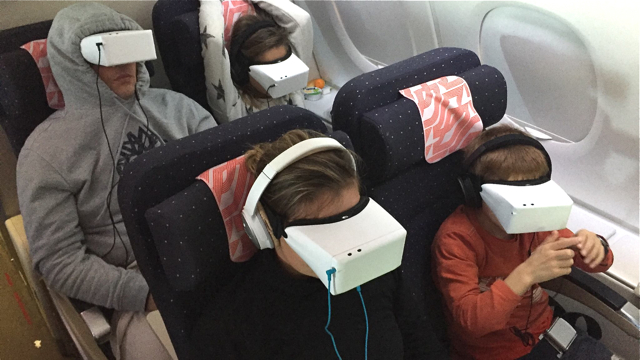 "Putting virtual reality headsets inside an aircraft is an idea as old as virtual reality itself," says Dicko, a former Air France-KLM pilot, "referring to the decades-old hope of offering passengers 3D-style entertainment." The company has signed content deals with 21st Century Fox and DreamWorks, and is looking to make other, similar pacts.
SkyLights isn't alone in focusing on improving entertainment in the sky. One major effort has been that to provide "high-speed Internet directly to cabins, as well as new partnerships with Netflix and other content streaming services."
Many if not most airline passengers already have subscriptions to digital video services such Hulu and/or music services such as Spotify, so Internet access on board would enable personal entertainment. Wireless entertainment is expected to grow on airlines, and "much of this momentum is because of multimillion-dollar investments from Gogo, currently the largest onboard Wi-Fi provider, and its competitors."
About 2,600 commercial aircraft now use Gogo, and by the end of December, says Gogo chief operating officer John Wade, "about 75 of those planes will have been upgraded to give users Internet speeds comparable to what their smartphones can provide on the ground," with as many as 450 more set for higher speeds in 2017.
Competitor ViaSat already offers Internet speeds similar to those available on smartphones to 550 planes, including "those from JetBlue's fleet." Better, the service is "typically free" for streaming Netflix and other Internet content, with the option to pay hourly for faster speeds for "online gaming and other bandwidth-heavy activities."
ViaSat will expand internationally in 2017 with deals set with Qantas and SAS, and two additional satellites by 2019. "Wi-Fi is becoming part of a carrier's amenity package," said ViaSat exec Don Buchman. "If drinks and peanuts are free, why shouldn't Wi-Fi?"
Airbus executive Anaïs Marzo reports that, "passengers now wanted almost constant access to their social media feeds, email accounts and other digital services," but that the company will continue to offer "traditional onboard options and seat-back television screens, particularly in business or first class where large high-definition displays are now the norm."
"More and more people are relying on their own devices on board," she said. About 60 percent of the Airbus fleet will have Internet connectivity by 2025.
Topics:
21st Century Fox
,
3D
,
Airbus
,
Aircraft
,
Anaïs Marzo
,
David Dicko
,
Don Buchman
,
DreamWorks
,
Gogo
,
Headphones
,
High-Speed Internet
,
Hollywood
,
Hulu
,
Internet
,
JetBlue
,
John Wade
,
Mobile
,
Movie
,
Netflix
,
Qantas
,
SAS
,
SkyLights
,
Smartphone
,
Spotify
,
Streaming
,
Television
,
Travel
,
Viasat
,
Video
,
Virtual Reality
,
VOD
,
Wi-Fi
,
XL Airways