Senators Jay Rockefeller and John Thune have introduced a proposal to let cable and satellite subscribers choose which broadcast TV channels they receive. The proposal intends to limit the blackouts when cable and satellite companies must negotiate retransmission fees with broadcasters. Broadcast advocacy groups have expressed opposition to the proposal. They believe cable and satellite companies need to cut hidden fees, not the broadcast channels, to lower cable bills.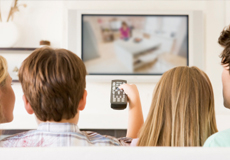 The Senate proposal, known as "Local Choice," would let consumers unbundle local broadcast stations, such as Fox or NBC. Cable channels like ESPN would still be bundled. If this proposal is successful, blackouts like the one between CBS and Time Warner Cable last year would be limited to the customers who pay for that broadcast channel.
Smaller cable companies and pay TV providers expressed support of the proposal. According to Variety, the American Television Alliance "said that the proposal would 'provide consumers with great choice and transparency and would end retrans blackouts once and for all.'"
Broadcast advocacy groups, such as TVFreedom and NAB, have argued against the proposal.
"This approach fails to offer consumers real programming choices or serious economic relief, yet forces them to continue overpaying for rarely watched cable channels such as Spike TV and TruTV," Robert Kenny, a spokesperson for TVFreedom said in a statement. He believes that hidden charges, equipment rental fees, and expensive cable channels are to blame for expensive cable and satellite bills.
Broadcasters could potentially lose if consumers can choose their broadcast TV channels. This year, broadcasters are expected to make more than $5 billion in retransmission fees from cable providers, reports National Journal.
Topics:
American Television Aliance
,
Broadcast
,
Broadcaster
,
Bundling
,
Cable
,
CBS
,
Channel
,
Consumer
,
Customers
,
ESPN
,
FOX
,
Jay Rockefeller
,
John Thune
,
Local Choice
,
NAB
,
National Association of Broadcasters
,
NBC
,
Pay TV
,
Proposal
,
Retrans
,
Retransmission
,
Robert Kenny
,
Satellite
,
Senate
,
Spike TV
,
Television
,
Time Warner Cable
,
truTV
,
TV
,
TVFreedom
,
Unbundle