Samsung is reportedly planning to unveil a next-gen quantum dot screen technology called 'QLED' at CES in January. The 2017 quantum dot TVs are expected to increase black color representation (one strength of OLED) and brightness (the strength of LCD). The QLED name is meant to describe a combination of LED and quantum dot, and will likely replace the company's SUHD naming convention. Samsung recently registered trademarks in Korea for 'HDR 1500,' 'Q HDR' and 'Real Black' to apply to its new TVs, which will likely achieve light outputs of 1500 nits and offer a premium HDR experience. 
The company is also expected to place an emphasis on color volume.
"Color volume is essentially about the way colors in the real world look when different levels of brightness are applied to them," explains Forbes. "Samsung sees this as a big deal for its new TVs because to reproduce color volume effectively you need a lot of brightness; something its 'QLED' TVs look set to have but which rival OLED TVs traditionally struggle with."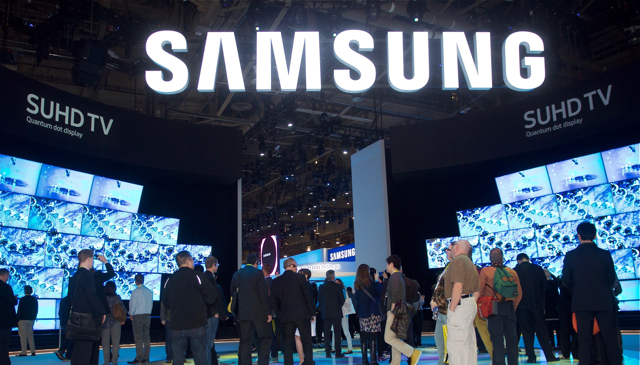 Korean tech site ETNews quotes an unnamed Samsung rep as saying, "As quantum-dot material continues to develop, range of color that it can express continues to expand… Because SUHD TVs that are going to be released in 2017 have much more improved color volume value, they will be much more improved than current TVs from aspect of color representation."
While ETNews makes no mention of QLED formally replacing SUHD, Forbes says a source explained that the company did not believe keeping the "SUHD TV terminology would reflect the extent of the advances it claims to have made with its third-gen quantum dot TVs." The company made a big push for SUHD at its CES booth last year.
QLED was first coined by Samsung-owned QD Vision "to describe an experimental emissive technology, where each pixel made its own light," notes Forbes. But the Samsung source assures the reporter "that the brand's QLED TVs will be based for the foreseeable future on various edge and direct backlighting solutions."
The ETCentric team will be in Las Vegas for CES in January and will report updates as they become available.
Topics:
Backlight
,
Brightness
,
CES 2017
,
China
,
Color Volume
,
CTA
,
HDR
,
HDR 1500
,
High Dynamic Range
,
Intellectual Property
,
Japan
,
KIPO
,
Korea
,
Las Vegas
,
LCD
,
LED
,
LG
,
OLED
,
Q HDR
,
QD Vision
,
QLED
,
Quantum Dot
,
Real Black
,
Samsung
,
SUHD
,
Television
,
Trademark
,
TV Set