Streaming TV service Sling TV is debuting its own TV tuner box, according to news on the company's website. The AirTV Player features the ability to receive local over-the-air TV channels via a digital antenna, as well as Sling TV's standard streaming services, with optional Netflix. EchoStar's Sling Media subsidiary and Dish's Sling TV appear to have collaborated on the AirTV box, since "AirTV Player" and its logo are copyrighted by EchoStar. By offering local channels, AirTV might encourage more viewers to cut the cord.
TechCrunch notes that Sling had previously negotiated limited rights with various broadcasters. But AirTV gets around the problem by combining a TV tuner to access broadcast channels with Sling's streaming service, in a single interface. Or, as its website reads, "With the AirTV Player, cut the cord and keep the TV experience."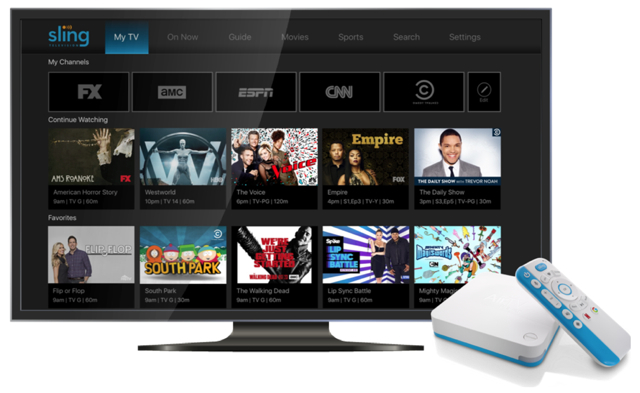 The single remote also offers voice control and includes a Netflix button. Although there is also a "Google" button, the website doesn't explain what it does.
AirTV competes with the Tablo DVR, which also offers a way to watch local channels but charges a monthly fee. AirTV, which comes with a one-year warranty, "requires a minimum download speed of 3 Mbps for SD video or 5 Mbps for HD video, and connects via an HDMI cable with your TV."
Variety notes that the Android-based device "could conceivably also run TV apps from Hulu, Amazon and other online video services, even though it's unclear whether some of these companies would want to cooperate with Sling TV."
Topics:
AirTV Player
,
Amazon
,
Android
,
Cord Cutting
,
Digital Antenna
,
Dish
,
EchoStar
,
Google
,
HDMI Cable
,
Hulu
,
Internet
,
Local Broadcast Stations
,
Movies
,
Netflix
,
OTA
,
Sling Media
,
Sling TV
,
Streaming
,
Tablo DVR
,
Television
,
TV Shows
,
TV Tuner
,
Video
,
Voice Control