Facebook's Live Audio, a complement to its Facebook Live video streaming, launched with a handful of publishers and authors testing out the ability to deliver news radio, podcasts and other audio-based services. BBC World Service, British talk radio LBC, publisher HarperCollins, and authors Adam Grant and Britt Bennett are the first to use the service, followed next year, says Facebook, by more "publishers and people." Broadcasters have a limit of four hours, which will allow a wide range of content.
TechCrunch reports that, "Android users will be able to close Facebook and use any other app while Live Audio keeps playing," whereas "iOS users can only browse the rest of Facebook with the stream running, while opening another app will cut the sound."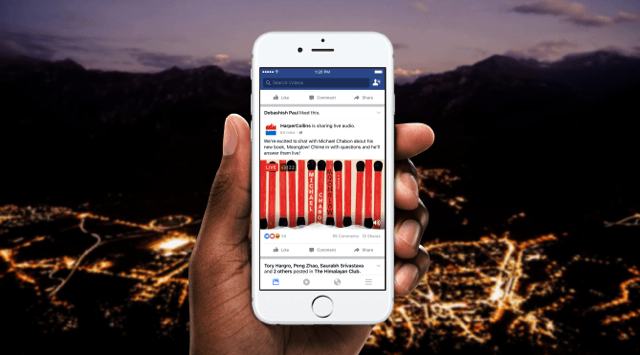 One use of Live Audio that Facebook mentions is broadcasts from "disaster zones or areas of crisis where bandwidth may be too overloaded for video streaming." TechCrunch also notes that, "for average users who have something to say but are camera-shy, Live Audio reduces the friction to becoming a broadcaster." The Facebook release can be read here.
Recode notes that, "a publisher could already broadcast live audio if they wanted to, but it required some creativity (essentially pointing the camera at a still image while providing voiceover)." With Live Audio, "you could see radio-style programming start to crop up on the service." Podcasts, which don't have "the same virality" as videos and news stories, might even get a boost if Facebook "decides to push live audio in its News Feed algorithm."
Recode also wonders "whether or not Facebook is paying partners to use Live Audio in the same way it paid publishers to use Facebook Live video at launch."