Roku has taken an important step in its long-time efforts to evolve from a hardware-based to a services-based model. Although the company will not comment, sources say that Roku is preparing to begin streaming videos on third-party devices from rivals Apple and Google. Those same sources say that the initial efforts will likely focus on mobile devices. Most consumers still think of Roku as a hardware company, but Roku recently began licensing its operating system to TV manufacturers and making money on advertising.
Variety reports that Roku's mobile app has been "downloaded tens of millions of times on iOS and Android," and is now used primarily as a remote control for Roku devices. Both the app and Roku device can only be operated if they are on the same Wi-Fi network, but "as Roku is looking to integrate video playback directly into its mobile app," the company may first integrate the ad-supported Roku Channel, debuted last month.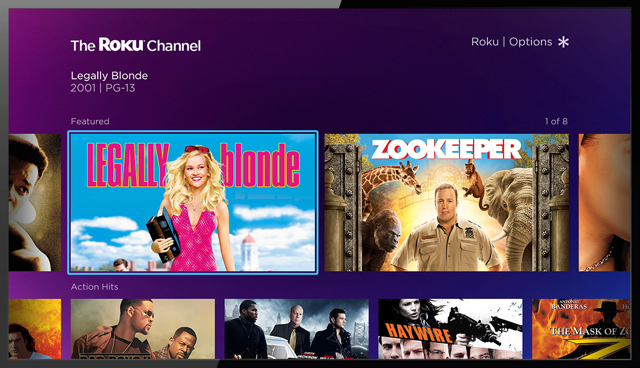 The Roku Channel "currently offers free, ad-supported access to several hundred movies from major studios like Lionsgate, Metro-Goldwyn-Mayer, Sony Pictures and Warner Bros. as well as smaller publishers like American Classics, Fandor, FilmRise, Nosey, OVGuide, Popcornflix, Vidmark and Yuyu."
According to a source, Roku has also asked publishers for rights to stream these titles on mobile devices. Roku may "incorporate additional content channels into its mobile app," either via channels the company owns and operates or by "allowing publishers who have their own channels on Roku devices to also make those channels available via Roku's mobile apps."
Roku's Direct Publisher feature, debuted last year, "already streamlined the way content owners can publish their videos on Roku devices" and "should make it easier to integrate feeds into Roku's mobile app as well."
App Annie reports that Roku's app "consistently ranks in the top 20 of U.S. entertainment apps on Android, and in the top 30 for entertainment apps on iOS." The Android version, which has been downloaded more than 10 million times, was — at the moment the article was written — more popular than CBS, ABC and HBO apps.
In its recent IPO filing, Roku stated that, "it currently generates 41 percent of its revenue from what it calls its platform business, which includes advertising and licensing fees," although it can't run ads against some popular channels including YouTube and Netflix.
Topics:
ABC
,
Advertising
,
American Classics
,
Android
,
App Annie
,
Apple
,
Apps
,
CBS
,
Fandor
,
FilmRise
,
Google
,
HBO
,
iOS
,
IPO
,
Licensing
,
Lionsgate
,
MGM
,
Mobile
,
Netflix
,
Nosey
,
OVGuide
,
Popcornflix
,
Roku
,
Smartphones
,
Sony Pictures
,
Streaming
,
Television
,
Video
,
Vidmark
,
Warner Bros.
,
Wi-Fi
,
YouTube
,
Yuyu