Long-time rivals Apple and Google joined forces to build software into smartphones that would alert people who have recently been in contact with someone infected with the coronavirus. Users will have to opt-in to use the tool, which will be ready to release in "several months" and enable smartphones to "constantly log other devices they come near," to accomplish what is called contact tracing. It also relies on a user's voluntary report of having become infected. The two companies said they teamed-up in the last two weeks.
The New York Times reports, "public-health authorities have said that improved tracking of infected people and their contacts could slow the pandemic, especially at the start of an outbreak," noting that similar measures were effective in South Korea, which "also conducted mass virus testing."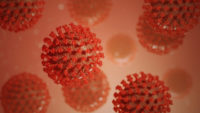 In order to work, "people infected with the coronavirus would notify a public health app that they have it, which would then alert phones that had recently come into proximity with that person's device … [but] the companies would need to get  public-health authorities to agree to link their app to the tool."
Some experts are raising caveats. "It could be a useful tool but it raises privacy issues," said University of California, San Francisco assistant professor of medicine Dr. Mike Reid, who is "helping San Francisco officials with contact tracing." President Trump said his administration will "look at the tool" but also mentioned privacy concerns.
NYT notes that, "Google, in particular, has a checkered history of collecting people's data for its online advertising business," although Apple, one of the chief critics of Google's data collection, "has not built a significant business around using data to sell online advertising."
In response, Apple chief executive Tim Cook has vowed that the tool would work "in a way that also respects transparency and consent," and Google chief executive Sundar Pichai stated that the tool has "strong controls and protections for user privacy." The two companies are also "discussing how much information to include in those alerts with health officials, aiming to strike a balance between being helpful while also protecting the privacy of those who have the coronavirus."
The Massachusetts Institute of Technology and public health authorities already have tools for contact tracing, and, in March, Singapore also unveiled TraceTogether, a contact-tracing app. But given the massive worldwide number of iPhone and Android devices, both companies stated they hoped "to make tracing efforts by public health authorities more effective by reaching more people."
They also stated their underlying technology would be available to third-party apps in mid-May and publicly available "in coming months." At MIT's Computer Science and Artificial Intelligence Laboratory, principal research scientist Daniel Weitzner, who is working on MIT's contact tracing app, stated that the Apple-Google partnership "will help health officials save time and resources in developing their own applications to track the virus' spread."
Apple and Google said their tool will consume less battery life than third-party apps and be more reliable as well. The two companies also aim to provide a common technical standard, which is hindering the effectiveness of third-party apps.
Topics:
Advertising
,
Android
,
Apple
,
Artificial Intelligence
,
Contact Tracing
,
Coronavirus
,
COVID-19
,
Daniel Weitzner
,
Data Collection
,
Donald Trump
,
Google
,
Health
,
iOS
,
iPhone
,
Mike Reid
,
MIT
,
Mobile
,
Privacy
,
Singapore
,
Smartphone
,
South Korea
,
Sundar Pichai
,
Tim Cook
,
TraceTogether
,
UC San Francisco