The U.S. has long been dominant in technology, but China, the world's second largest economy, has made huge investments in several sectors, threatening American hegemony. The Trump administration is battling that with tariffs and export controls and is currently considering ways to hinder China from making its own high-end semiconductors. That's one of the technologies at stake, in addition to 5G, artificial intelligence, quantum computing and autonomous vehicles. China also aims to control international tech standards.
The Wall Street Journal reports that since attorney general William Barr suggested that the U.S. and its allies "should consider taking a financial interest in Huawei rivals Nokia and Ericsson," China has "gained nearly the combined market share of its European rivals via its cutting-edge products and low prices." Huawei also leads in radio, which forms "more than 60 percent of a wireless carrier's 5G capital expenditures." Edge: goes to China.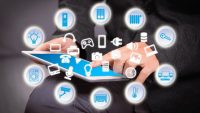 In AI, China "declared its intention to be the world leader … by 2030" and its publicly traded tech giants Alibaba Group and Baidu "have plowed billions of dollars into AI research" and labs. China also benefits from a "huge population, surveillance infrastructure and more lax attitude on privacy rights," but large U.S. companies like Microsoft and Google are leading when it comes to artificial general intelligence "or AI with broader, humanlike thinking abilities." Edge: goes to U.S., but it's close.
With quantum computing, the U.S. is "the clear world leader in the construction of quantum computers," with machines from Google and IBM. But China may have the advantage with "quantum communications, sensors and radar — all areas with possible military applications." Edge: goes to U.S. in quantum computing, China in quantum communications.
Semiconductors are dominated by the U.S., whose exports to China have remained at about 47 percent of the chips used there. Some experts "suggest China is five to seven years behind the U.S. and Taiwan on chip technology, but it may take longer for China to catch up because cutting-edge chips are a moving target." Edge: goes to U.S.
Autonomous vehicles got a head start in the U.S. with Google's Waymo and General Motors' Cruise but, says WSJ, "in the long term, China is poised to come out ahead." As the world's biggest car market, China also requires foreign companies to partner with local ones and "China's huge population will give Chinese companies more data they can use to refine autonomous-vehicle technology." Edge: goes to U.S., for now.
TechCrunch reports that China has openly stated its ambition to define global standards "since its 2001 accession to the World Trade Organization, when it launched the National Standardization Strategy." Now, after two years of planning, China is readying the launch of China Standards 2035, "an industrial plan to write international rules."
The specifics have not yet been released, but the country's National Standardization Committee already released a preliminary report of its work in 2020, revealing "an explicit global ambition that weaponizes commerce, capital, and cooperation," with an emphasis on "integrated circuits, virtual reality, smart health and retirement, 5G key components, the Internet of Things, information technology equipment interconnection, and solar photovoltaics."
Topics:
5G
,
Alibaba Group
,
Artificial General Intelligence
,
Artificial Intelligence
,
Autonomous Vehicles
,
Baidu
,
China
,
China Standards 2035
,
Cruise
,
Donald Trump
,
Ericsson
,
General Motors
,
Google
,
Huawei
,
IBM
,
Microsoft
,
Nokia
,
Quantum Communications
,
Quantum Computing
,
Semiconductors
,
Tariff
,
United States
,
Waymo
,
William Barr
,
World Trade Organization