Reelgood is a new site that offers a single interface for tracking content across 250 streaming services, essentially providing a contemporary TV guide for the streaming era. The service, which started as a social iPhone app centered on movies and evolved into a tool for content discovery, exited beta yesterday. The idea behind Reelgood is to provide viewers with an effective, customizable central hub to navigate the offerings of multiple services, including subscription video on demand and cable TV, without having to deal with a variety of different apps and interfaces.
The Reelgood beta launched last winter, listing content from top streaming services such as Netflix, Hulu and Amazon Video. The site now tracks a broader range of streaming apps and sites, including those for a wide range of ad-supported television and major cable networks.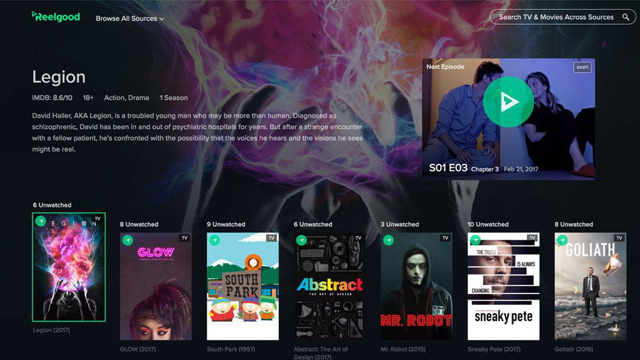 "The site offers a variety of tools for filtering and searching through the available content, including those for browsing by genre or keyword searches," reports TechCrunch. "It also features rows of recommended content — much like you'd see on Netflix, but pulled from an aggregation of your preferred sources instead." Show listings include ratings and synopses from IMDb.
The startup also learned during the beta that many users were concerned with tracking episodes they had already watched, so a "Watch Next" feature was introduced to help track viewing history.
"People shouldn't be forced to waste time every night flipping between streaming apps to see if there are new episodes of the shows they watch or what content they have access to," said Reelgood founder David Sanderson. "It should all be in one place and there shouldn't be any barriers between them and the perfect show or movie."
"You'd never check the websites for American Airlines, Southwest, Alaska, etc. to book a flight — you'd just use Kayak," he added. "It's time we get the same experience for [subscription video on demand], and that's exactly what we're doing at Reelgood."
Mashable suggests, "It might sound simple, but we're currently in the golden age of TV, and with so many new shows capturing our attention, a kind of 'Google for streaming TV' is exactly what many of us need."
To give it a test drive, visit the Reelgood site.
Topics:
Advertising
,
Amazon Video
,
App
,
Beta
,
Browse
,
Cable TV
,
Commercial
,
Cord Cutter
,
David Sanderson
,
Discovery
,
Filter
,
Hulu
,
IMDb
,
Internet
,
Kayak
,
Movie
,
Netflix
,
On Demand
,
OTT
,
Popcorn Time
,
Recommendation
,
Reelgood
,
Search
,
Streaming
,
Subscription
,
SVOD
,
Television
,
Tracking
,
TV Guide
,
TV Show
,
UI
,
Video
,
VOD