Pluto TV chief executive Tom Ryan sees the company as a "remix" of traditional linear TV, a place where viewers don't have to pick what they want to watch. The company just announced new content deals with NBC News, Reuters, Paramount, 120 Sports, CNET, Legendary Digital, and Corus Entertainment, but the majority of its content is YouTube or Vimeo videos that have been repackaged to resemble linear channels. New executive chair Ken Parks says the service plans to be an aggregator for digital subscription services.
Bloomberg notes that, "If Netflix or HBO Now is like Spotify, Pluto is more like Pandora," in its aim at creating an app that looks like a cable TV guide and a service that feels like traditional TV. Just as many people use both an on-demand music service and an Internet radio service, Pluto TV is based on the idea that the same will be true of Internet video.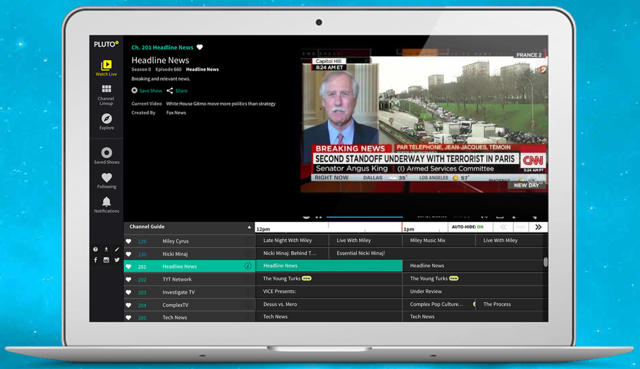 The company doesn't reveal much information on its users but will say its Android app has been downloaded more than 500,000 times and that users spend an average of an hour on the app. Pluto TV also just submitted its Apple TV app for approval. The service is free, making its money via ads inserted in its repackaged channels.
"The Internet video landscape is increasingly chaotic, so there's a need for some sort of central hub at which people can find what they want," says Bloomberg. But Pluto TV already has competition in that space from none other than Apple, which just opened an app store for Apple TV devices, allowing developers direct access to customers.
Apple chief executive Tim Cook has been quoted as saying that the future of television is apps, not channels, and Bloomberg wonders if, "in seeking a company to serve as a clearinghouse for video services, consumers might select the company that served that role for MP3s and apps for smartphones."
Topics:
120 Sports
,
Advertising
,
Aggregator
,
Android App
,
Apple
,
Apple TV
,
Cable TV
,
CNET
,
Corus Entertainment
,
Digital Subscriptions
,
HBO Now
,
Ken Parks
,
Legendary Digital
,
MP3
,
Music
,
NBC News
,
Netflix
,
Pandora
,
Paramount
,
Pluto TV
,
Reuters
,
Smartphones
,
Spotify
,
Subscription
,
Television
,
Tim Cook
,
Tom Ryan
,
Video
,
Vimeo
,
YouTube