Nielsen is rolling out a program to track views of almost 1,000 shows on Netflix, Amazon's Prime Instant Video and Hulu, relying on the same 25,000 U.S. households used to track traditional TV ratings. The idea is that, by having access to that data, large media companies such as Comcast NBCUniversal can hammer out better content licensing deals, especially with Netflix. Currently, Nielsen provides data only to studios that own the programs and pay for the information, but it plans to syndicate the data in the future.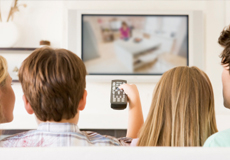 According to The Wall Street Journal, Nielsen receives digital files from the studios that allow it to "scan for audio fingerprints of shows and log viewing data." Having more data on how the streaming shows are performing will allow Time Warner, 21st Century Fox and NBCUniversal negotiate for more money when deals are renewed.
RBC Capital Markets analyst David Bank reports that studios and networks will make $6.8 billion this year selling reruns to streaming services including Netflix, Hulu and Amazon.
Netflix — which only shares some viewing information with a few studios — notes that Nielsen doesn't provide ratings for viewing via tablets and smartphones, or data for viewing outside of the U.S. However, Nielsen says it plans to include data from digital devices in the future.
On learning that Netflix does share data with select studios, some competing content suppliers expressed "surprise and disappointment," but a Netflix spokesman told WSJ that the data share has been "very limited" and does not include any information on Netflix originals.
WSJ points out that, whatever Nielsen's research shows, the studios and networks have enjoyed "robust revenue growth from their licensing pacts with streaming companies." On the flip side, if Nielsen's research shows Netflix's content isn't as popular as its acquired programs, "that could be a concern to Wall Street, given how much the company has been investing in its own shows."
Topics:
21st Century Fox
,
Amazon
,
Comcast NBCUniversal
,
David Bank
,
Hulu
,
Licensing
,
Mobile
,
NBCUniversal
,
Netflix
,
Netflix Originals
,
Nielsen
,
Original Programming
,
Prime Instant Video
,
RBC Capital Markets
,
Reruns
,
Smartphone
,
Streaming Service
,
Syndication
,
Tablet
,
Time Warner
,
TV Ratings
,
TV Show
,
Video
,
Viewership
,
VOD
,
Wall Street