YouTube launched its centralized hub for gaming this week, a new competitor to Amazon's Twitch that features live and recorded video content about popular games. YouTube Gaming is available for game fans on mobile (Android, iOS) and the Web and offers more than 25,000 dedicated pages. The service automatically populates all gaming content from YouTube's community, and Google is appealing to video creators by promising to make it simpler to livestream their games. Gaming-related video content has exploded in popularity, and is now second only to music.
In the wake of Sony PlayStation 4 and Microsoft Xbox One releases, gamers have been spending even more time watching other gamers play games online.
Swedish comedian Felix Kjellberg (alias PewDiePie) currently hosts the top-rated channel on YouTube. Nearly 39 million subscribers regularly watch his opinionated, unfiltered gaming commentaries.
And for the last two years, streaming video service Twitch.tv has made the most of the growing popularity of video gaming as a spectator sport. Amazon acquired the site, which now touts more than 1.5 million broadcasters and 100 million monthly visitors, last year for $970 million.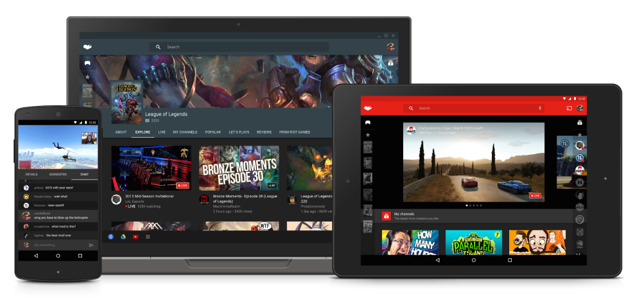 Up until now, Twitch has had game livestreaming largely to itself (the average user spends 106 minutes watching streamed content on the network per day). However, that could change with YouTube's new effort.
According to Fortune, YouTube "has the deep pockets and global reach to challenge Twitch's numbers. And after the Google unit failed to acquire Twitch last year, it's eager to ensure it doesn't lose ground in the streaming video market."
But some analysts suggest that Amazon Gaming is far from a sure thing.
"Google certainly has the scale and resources that most companies can't ever match, but that said, they've gotten into the augmented reality and social networking fields with Google Glass and Google+ — and arguably have not wildly succeeded in crushing the incumbents," said Digital World Research founder P. J. McNealy. "Twitch is pretty well embedded right now with a lot of the hardware systems and it will be a challenge for Google to try to displace them."
Fortune points out that Twitch says it is ready for the competition, "and the first salvo may come at TwitchCon, the company's first fan convention, being held in San Francisco on Sept. 25-26."
For its part, "YouTube is also trying to raise its profile among gamers by showing up to conferences and fan events," notes VentureBeat. Following a major presence at June's Electronic Entertainment Expo, YouTube is heading to this weekend's Penny Arcade Expo in Seattle, where it will host "a full booth and stage show featuring some of its biggest content creators and partners."
Related:
What Do Marketers Think of YouTube Data and Analytics?, eMarketer, 8/25/15
Can YouTube Gaming Survive the 'Protection' of Content ID?, Forbes, 8/26/15
Will Gaming Breathe Life into Live-Streaming YouTube?, CNET, 8/27/15
Topics:
Amazon
,
Android
,
Augmented Reality
,
E3 2015
,
Electronic Entertainment Expo
,
Felix Kjellberg
,
Gamer
,
Gaming
,
Google
,
Google Glass
,
Internet
,
iOS
,
Microsoft
,
Mobile
,
Music
,
P. J. McNealy
,
PAX
,
Penny Arcade Expo
,
PewDiePie
,
PlayStation
,
San Francisco
,
Seattle
,
Social Media
,
Sony
,
Streaming
,
Twitch
,
TwitchCon
,
Video
,
Xbox One
,
YouTube
,
YouTube Gaming