As a follow-up to its original $700 4K media player, Sony has announced a new model, the FMP-X10, that will provide access to Sony's Video Unlimited 4K download library and be able to stream 4K Netflix content. The new player, available this summer, will be compatible with Sony Ultra HD sets and include 1 terabyte of storage. A price has yet to be announced. Sony's Video Unlimited 4K library currently features more than 200 titles (45GB-60GB files), about 50 of which are available for free.
The 4K library now offers hundreds of titles including movies like "American Hustle" and TV episodes such as NBC's "The Blacklist." The player will "be able to stream 4K content from Netflix, including season two of 'House of Cards,'" reports Multichannel News. "Netflix confirmed earlier this month that it had begun to offer those titles as well as some nature documentaries in the Ultra HD format."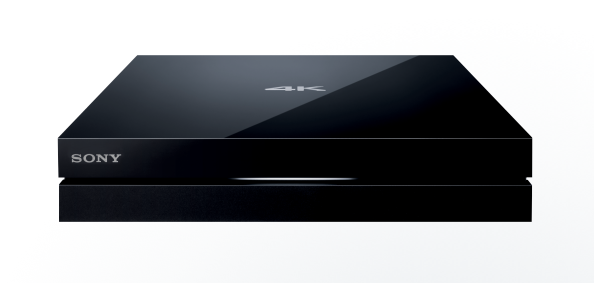 Sony also announced that nine TV models from its new 4K lineup are now available for pre-sale, with a market launch slated for June. Three series ranging from 49-inches to 85-inches start at $3,999 and go up to $24,999. All new models support HDMI 2.0 with the ability to display 4K/60p content.
"The new TVs will also feature a decoder for HEVC/H.265, a video compression scheme that is 50 percent more efficient than MPEG-4/H.264," Multichannel News explains. "The new lineup is also compatible with MHL 3.0 which supports 4K output from smartphones and tablets, Sony said."
"In addition to Netflix, several providers including Amazon, Comcast, Fox, and others have announced plans to deliver 4K streaming," notes CNET. "We wouldn't be surprised if Sony's new player added the ability to handle those streams as well when they become available."
Topics:
4K
,
60p
,
Amazon
,
American Hustle
,
Blacklist
,
CNET
,
Comcast
,
Compression
,
Decoder
,
Doc
,
Documentary
,
Episode
,
Film
,
FMP-X10
,
Format
,
FOX
,
H.264
,
H.265
,
HD
,
HDMI
,
HDMI 2.0
,
HEVC
,
House of Cards
,
Library
,
MHL
,
MHL 3.0
,
Mobile
,
Model
,
Movie
,
MPEG-4
,
Multichannel
,
Nature
,
NBC
,
Netflix
,
News
,
Phone
,
Player
,
Program
,
Series
,
Show
,
Smartphone
,
Sony
,
Storage
,
Stream
,
Streaming
,
Tablet
,
Television
,
TV
,
UHD
,
Ultra
,
Ultra HD
,
Unlimited
,
Video