Embedded sensor technology has proven to be useful in a number of markets, but some are saying it can revolutionize the retail experience for both companies and consumers if used to its full potential. Though online retail is booming in popularity, many transactions still take place inside physical stores, often with the aid of a mobile device. By linking up those factors, shoppers' experiences will be more productive, and companies will benefit with greater profits.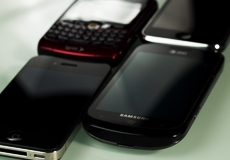 "Google recently commissioned a survey on shopping habits and found that more than 66 percent of smartphone owners already use their phone to help them shop while in a store," GigaOM reports. "The key for retailers is to create additional value for these shoppers while they are in the physical store with their mobile devices."
The article notes that more than 90 percent of retail sales are still taking place in brick-and-mortar stores, and that retailers "have a huge opportunity to create 'smarter' stores and shopping experiences for consumers." That may mean keeping stock of inventory or monitoring shoppers' traffic patterns. Sensors, according to the post, "represent the key to unlocking valuable new data for marketers, merchandisers and supply chain professionals."
Sensors also allow for more personalized shopping experiences for the customers. "Consumers are increasingly relying on their smartphones to help make more informed decisions while they shop," GigaOM says. Sensors within the stores can track specifically where shoppers are browsing, sending signals to their smartphones which can then deliver them relevant content.
How can retail companies know if these methods will be effective? They already are. Retailers like Kenneth Cole and Timberland launched sensor technology pilots, and more than 90 percent of surveyed shoppers said they would be "highly likely or likely to use an in-store mobile experience again."
The stores also saw a 35 percent conversion rate, "meaning a substantial amount of shoppers not only appreciated the personalized offers but also acted on them," GigaOM notes.
Topics:
Advertising
,
Brick-and-Mortar
,
Browse
,
Commerce
,
Content
,
Conversion
,
Data
,
Device
,
Embed
,
Google
,
Habits
,
In-Store
,
Inventory
,
Kenneth Cole
,
Marketing
,
Merchandise
,
Mobile
,
Offers
,
Online
,
Personalized
,
Phone
,
Profits
,
Retail
,
Retailer
,
Sensor
,
Shopper
,
Shopping
,
Smartphone
,
Stock
,
Stores
,
Survey
,
Tablet
,
Technology
,
Timberland
,
Tracking
,
Transaction