The Dyle mobile digital TV venture announced that its service is now positioned to reach a wider range of smartphones and tablets following the debut of the new "mobiletv" receiver from Audiovox, developed by Siano. When paired with the Dyle app, the new receiver captures Dyle TV signals and sends them to iOS and Android mobile devices using an integrated Wi-Fi radio. Earlier Dyle-compatible receivers could only plug into iPads and iPhones via 30-pin hardline interfaces.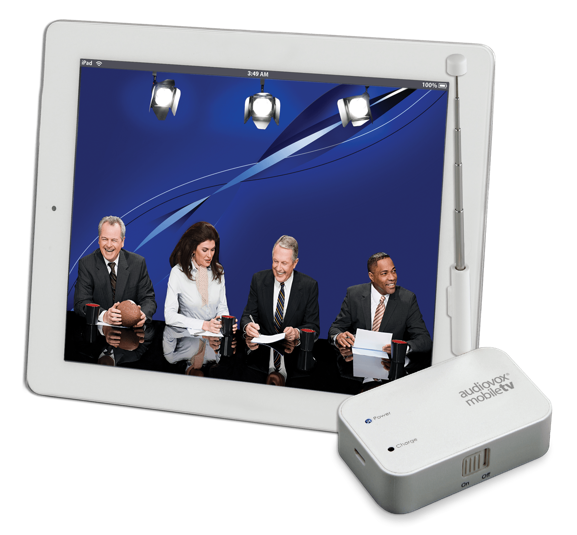 The Audiovox receiver marks the first accessory compatible with Android devices. And since it no longer requires a hardline connection between the mobile device and Dyle-compatible antenna, it can be positioned anywhere that allows the integrated antenna to receive the strongest Dyle signal.
Multichannel News reports: "Audiovox mobiletv also supports a program guide, pause/rewind trick-play features, and an internal battery that provides up to four hours of TV viewing, according to Dyle. The suggested retail price on the new device is $129.99, though Amazon is already marketing it to Prime members for $99.99, though the listing notes that the product is 'Temporarily out of stock. Order now and we'll deliver when available.'"
"Dyle, considered by some as a broadcaster-led hedge against services such as Aereo, doesn't deliver its mobile TV signal service over broadband or cellular networks, but instead uses a portion of the traditional broadcast spectrum to beam encrypted, live digital-TV signals that are optimized for mobile devices," notes the article. "Dyle has previously estimated that broadcasters must spend about $100,000 on upgrades, primarily encoders, to deliver the mobile TV feed alongside the primary HDTV broadcast signal."
"Using the Dyle mobile TV app developed by Siano and available from the App Store and Google Play, the Audiovox mobiletv receiver will enable millions of Apple and Android device users to watch live TV on their devices without the need for Internet or cellular connection," according to the press release. "Ultimately, this will help consumers extend the live TV experience and give them greater levels of choice and flexibility — completely free."
The Dyle service is free to consumers with the right equipment, but an authentication model tied to pay TV may be the business model in the future. It is already available in 38 U.S. markets covering about 57 percent of the country.
Topics:
Aereo
,
Amazon
,
Android
,
App
,
Audiovox
,
Authentication
,
Broadband
,
Broadcast
,
Connection
,
Digital TV
,
Dyle
,
Dyle TV
,
Encrypted
,
Hardline
,
HD
,
HDTV
,
iOS
,
iPad
,
iPhone
,
Mobile
,
Mobile TV
,
mobiletv
,
Over-the-Air
,
Pay TV
,
Phone
,
Play
,
Prime
,
Program Guide
,
Radio
,
Receiver
,
Siano
,
Signal
,
Smartphone
,
Spectrum
,
Subscribe
,
Subscription
,
Tablet
,
Television
,
TV
,
Wi-Fi
,
Wireless