Netflix has reportedly moved the timeline for launching its ad-supported subscription tier to November 1 in an effort to get to market before the December 8 debut of the Disney+ tier with advertising. Over the summer, Netflix told investors it planned to launch the lower-priced alternative tier "around the early part of 2023," a strategy that appears to have shifted, with a Q4 rollout that is expected to include the U.S., Canada, Germany, France and the UK. The streamer is also said to be discussing a pricey $65 CPM rate per thousand impressions. Netflix characterized the conjecture as "speculation."
"We are still in the early days of deciding how to launch a lower-priced, ad-supported tier, and no decisions have been made," Netflix said in a statement provided to The Wall Street Journal, concluding "this is all just speculation at this point." Last week, WSJ reported "Netflix is seeking to charge advertisers roughly $65 for reaching 1,000 viewers, a measure known as CPM, or cost per thousand, the buyers said," calling the price "substantially higher than most other streaming platforms."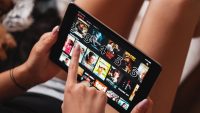 Earlier this year, WSJ ventured that Netflix expects to "eventually be able to charge advertisers about $80 for every 1,000 views of an ad by helping them target specific audience segments," pricing that would put Netflix on par with the most expensive ad destinations, right up there with NFL games.
Variety said the $65 CPM was a "soft" ask, adding that "many advertisers aren't willing to pay that much." Last week, Variety reported Netflix hired Snap's chief business officer Jeremi Gorman and VP sales Peter Naylor to internally shepherd the advertising component of the lower-price tier it hopes will be a robust source of new revenue and attract cost-conscious viewers.
In July, Netflix announced Microsoft as its exclusive ad booking agent.
"Initially, Netflix plans to sell 15- and 30-second ads that would appear before and during some programs," WSJ reports, adding that the platform "is looking to keep the ad load to four minutes of ads for every hour of programming — less than some of the other streaming services and much less than traditional TV," which typically includes between 18 and 23 minutes of advertising per hour.
Brands had for years eyed ways to get onto premium streaming platforms, which initially eschewed advertising, even as desirable demographics migrated to the outlets and spent less time watching linear TV. Now, brands are being presented with an abundance of options for their messaging as streaming services increasingly embrace ads. In addition to the Q4 launch of an ad-supported Disney+ tier, Warner Bros. Discovery's HBO Max began offering such a tier in June 2021, and Paramount+ rolled one out this summer.
WSJ suggested advertisers had been hoping for "an entirely new ad experience" from Netflix, "from product placement to running ads that tie into the show's content by using the same actors." In June, Netflix CEO Ted Sarandos had mentioned non-traditional sponsor opportunities, but said it would be a work in progress.
Related:
Netflix Ad Tier Will Include Limited Targeting, No Third-Party Measurement, Ad Age, 8/31/22
Netflix to Launch Cheaper Ad-Supported Subscription Tier in November, The Guardian, 9/4/22
Netflix and Microsoft Is a Partnership Built on Bundling, AdExchanger, 9/6/22
Netflix Will Likely Ban Crypto Advertisements, Crypto Briefing, 9/5/22
Topics:
Ad-Supported
,
Ad-Targeting
,
Advertising
,
Brands
,
Canada
,
CPMs
,
Disney Plus
,
France
,
Germany
,
HBO Max
,
Jeremi Gorman
,
Microsoft
,
Netflix
,
NFL
,
Paramount Plus
,
Peter Naylor
,
Product Placement
,
Revenue
,
Snap Inc.
,
Sponsors
,
Streaming
,
Subscription
,
Subscription Tiers
,
Ted Sarandos
,
United Kingdom
,
Warner Bros. Discovery